I love Sezane earrings — of all my Sezane purchases, they're probably the ones I get compliments on most often.
I personally break Sezane earrings into two categories: vintage glam and boho summer. The vintage glam are most of what you'll see below: lots of gold (well, gold-plated brass, for the most part) and resins/glass — shiny! Feminine! Beautiful! The latter vibe is omnipresent in their spring/summer collections, when natural materials life raffia, thread and the like dominate. I like them both equally, though I've found that the glammier (read: metal-based) pieces tend to last longer.
Let's say there's a third category, and that is: Sezane Earrings i Do Not Wish to Buy. These include too-basic shapes (which you can dupe with cheaper brands) and more delicate, demure pieces, which I think are done better by other brands, including Lou Yetu. I'm not paying Sezane earring prices for a pair of basic Sezane earring hoops. I'm getting those at H&M.
If you're looking for the Sezane earrings worn by Kate Middleton — the Dinas — I'm sorry to say that they're not currently on offer, and that there's no perfect equivalent for them at the moment. She wore them on Christmas Day, 2022 – a pretty high-profile occasion for such an egalitarian earring; you love to see it. This was well covered by the myriad Kate Mid style blogs; for a look, see here. The closest thing they have at the moment might be the Joe earrings? Or the Meikas?
All prices below are in USD — note, as always, that you'll pay less in absolute terms if you save your earring-buying for when you're next in Paris. To see exactly how much you'll save, click here.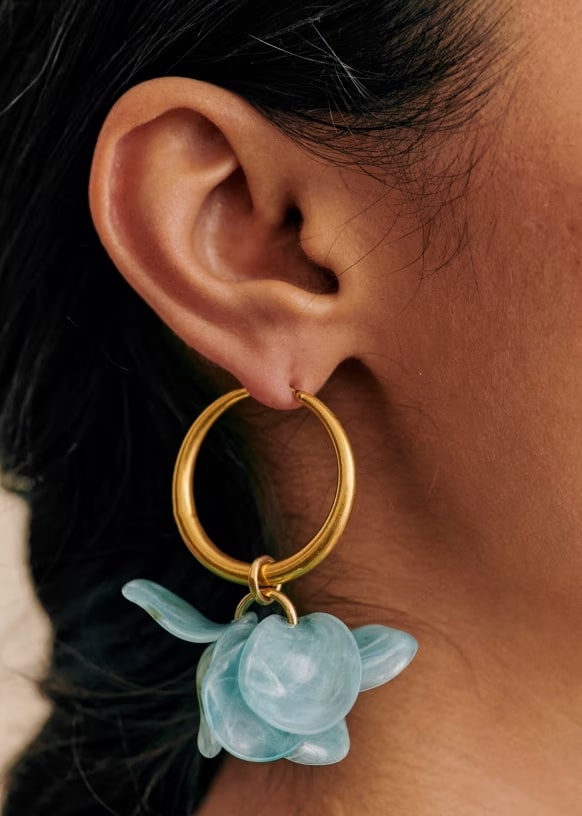 #1: The Flora Hoop Earrings ($90)
When I said above that I get lots of compliments on Sezane earrings, I'm mostly talking about the Floras, which I have in sea green. I love them. I generally don't like hoop earrings — I feel like a pirate! I can't help it! — and these are big and swishy; those gold-plated brass hoops are thicker and sturdier than they look. But I got used to them, and now they are my favorites of all my earrings, from Sezane and elsewhere. Note that the resin flowers aren't attached to the hoops, so they can separate if you're not careful (when they're not in your ears) and I personally hate the thin wires they go into your ears. All that kvetching aside, I love these, and if they weren't $90, I'd have them in multiple colors. To my fellow green-eyed girlies: The Sea Green is a must!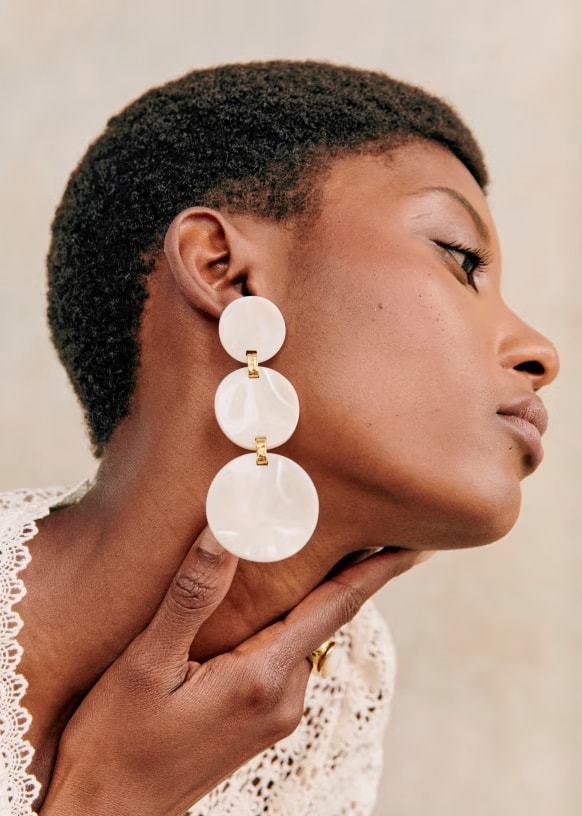 #2: Ernest Earrings ($90)
I find these so striking. As mentioned above: I don't see the point of spending nearly $100 on earrings unless they are PIZZOW-WOW-HELLLO!!!***, and these qualify. I have quite a short neck so they almost reach my shoulders — something to consider. I think that's why all the model shots in the product listing have her lifting her chin. The simple and dramatic white is my top pick.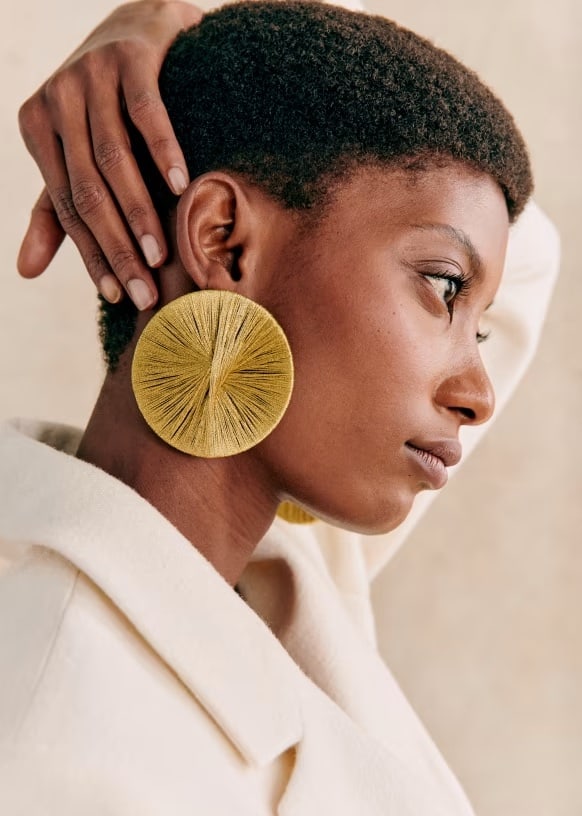 #3: Diego Earrings ($80)
I hesitate with Sézane's woven earrings in a way I didn't used to, before I bought two pairs that fell apart without too much hard use (ultimately they both separated from the post). That said: I love how these look so much that I'm willing to take the risk. Best color: gold.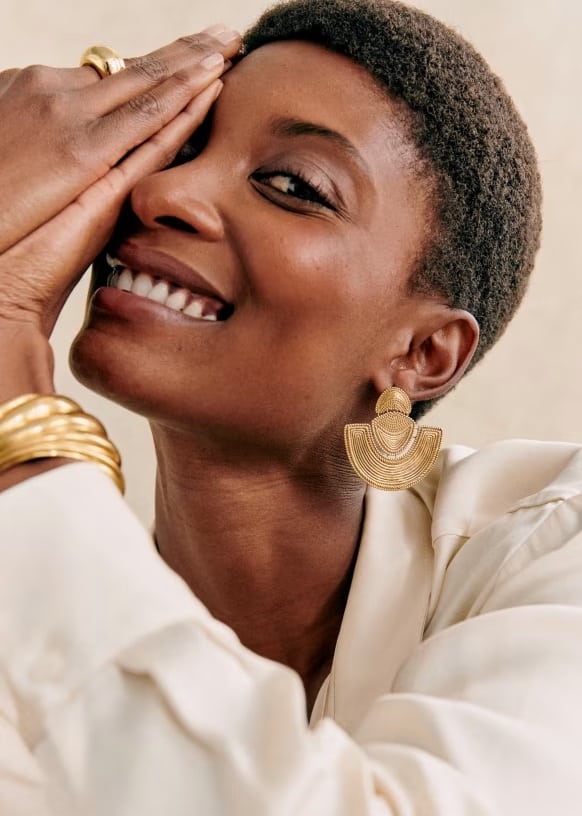 #4: Meika Earrings ($120)
I find these really beautiful and elegant and vintage-vibe-y — in the gold would look so good with black, gold, white, cream. Super Greek island vibes! St. Tropez! Cannes! Anywhere beautiful with a sea view!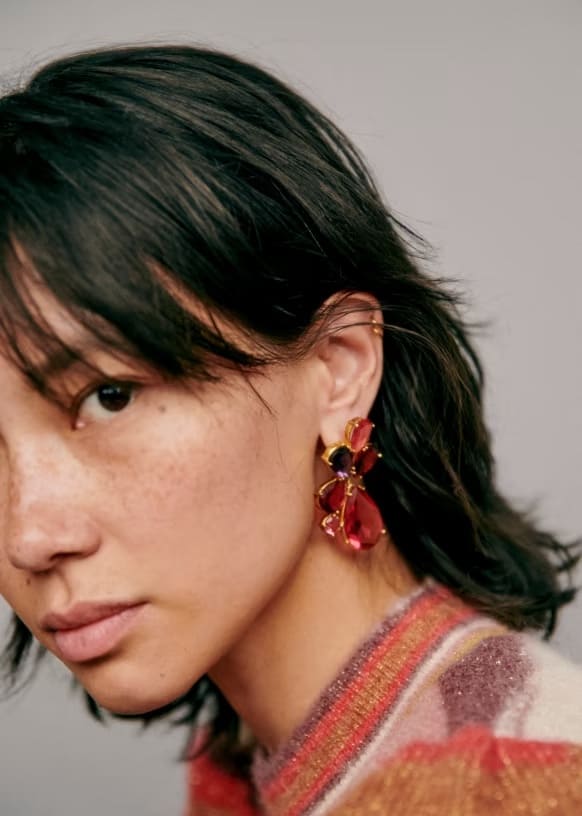 #5: Miranda Earrings ($90)
I love these, even if they look to me like a very pricey duper for J. Crew's ubiquitous colored glass earrings.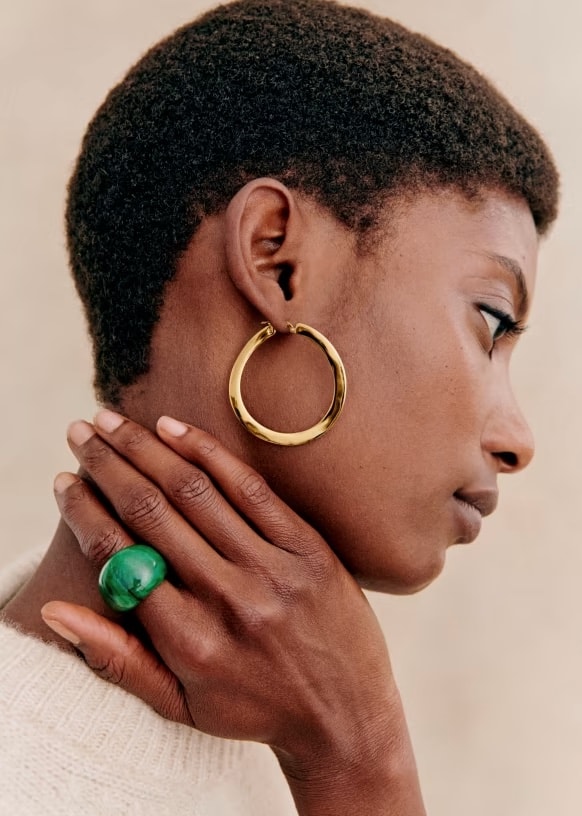 #6: Clarisse Hoop Earrings ($120)
These are so extremely classy. I would never buy them, but if someone gave them to me, I'd wear them to every job interview and second date from now until the end of time. Brass rings gilded with fine gold, in case you're interested in the composition. Note that lovely and very subtle swerve in the hoop!