Sezane bags are excellent, stylish and well-made. Here's what you need to know before you buy one — especially if you're buying it from overseas.
Sezane has a smallish assortment of bags: Right now, it has four leather bags (the Milo, the Romeo, the Victor, and the Farrow) in a variety of colors and finishes), as well as a capsule collection of woven summer bags, in natural fibers (primarily raffia). My opinion is that the leather bags are a good buy for the money, due to the quality of the construction and the durability of the style — they're designed to last. The summer bags? I'm not as enthusiastic.
Let's get into it.
Sezane Leather Bags: The Milo and More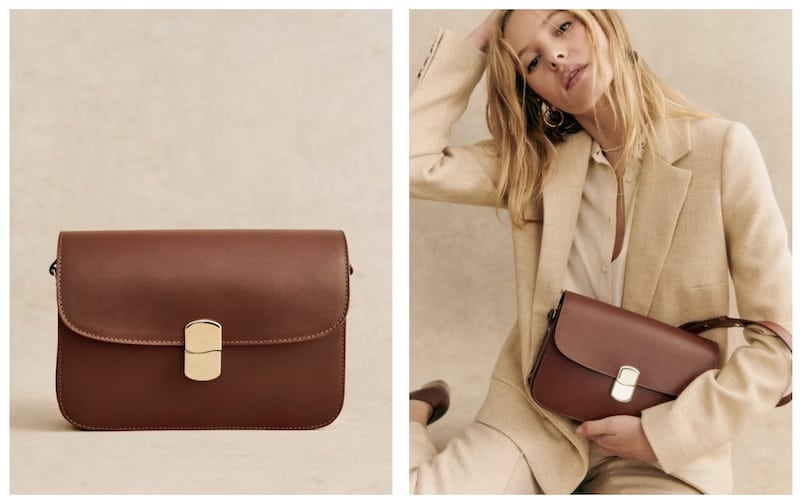 The leather portion of the Sezane bag selection is led by the Milo ($475): It's 100% vegetable-tanned smooth cowhide leather, and made in Italy. It's smallish: shorter and narrower than a letter-sized piece of paper (6.7 inches x 9.4 inches x 1.8 inches). It has a very satisfying metal clasp on the front, with a zipped interior pocket. It's great — there's no other way to say it, it's just like Sezane in a nutshell: fashionable without being trendy, well made, expensive but actually pretty reasonable when you break it down on a cost per wear. You could use this bag every day for years.
The Milo comes in slightly exotic finishes, including a python-embossed leather and a snakeskin-embossed leather, but personally I think you need to go classic all the way, with the Natural Heritage (a rich warm brown, shown here.). It also comes in a classic black that I feel is a bit stark.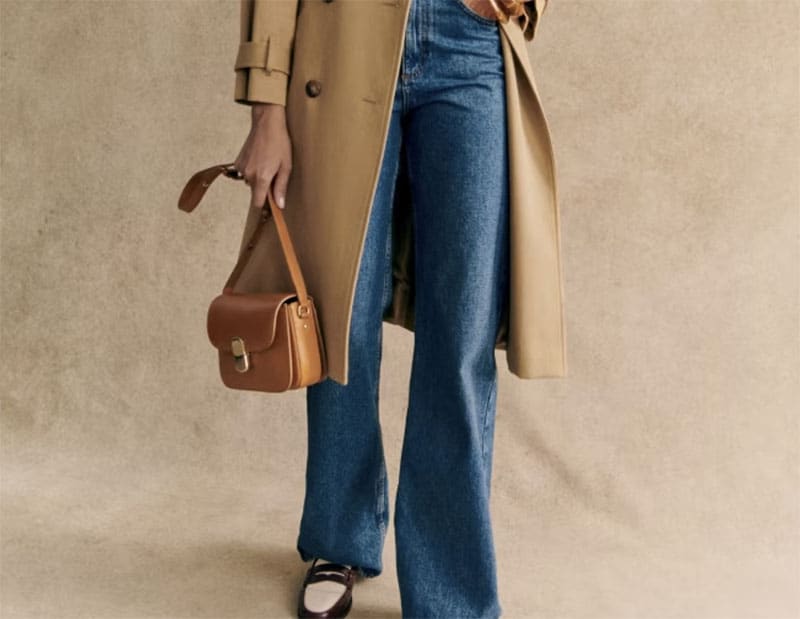 The Milo also comes in a mini size (seen above): 4.7 inches x 7.5 inches x 2 inches. That's the same size as a 5″ X 7″ index card. And you're only saving $40 versus the full-size price.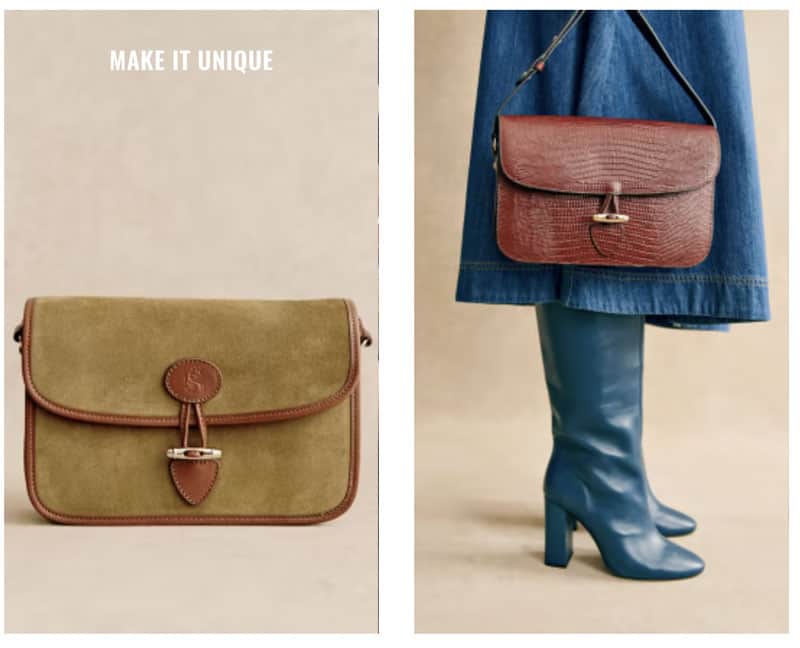 There's one more variation of the Milo: a "vintage" take in taupe sueded leather (seen above on the left — on the right is the embossed brown), that's just a little bit cheaper ($405). I do like the vintage-y leather clasp that replaces the metal one on the regular Milo.
Ranking the Rest of the Sezane Bags: Leather Edition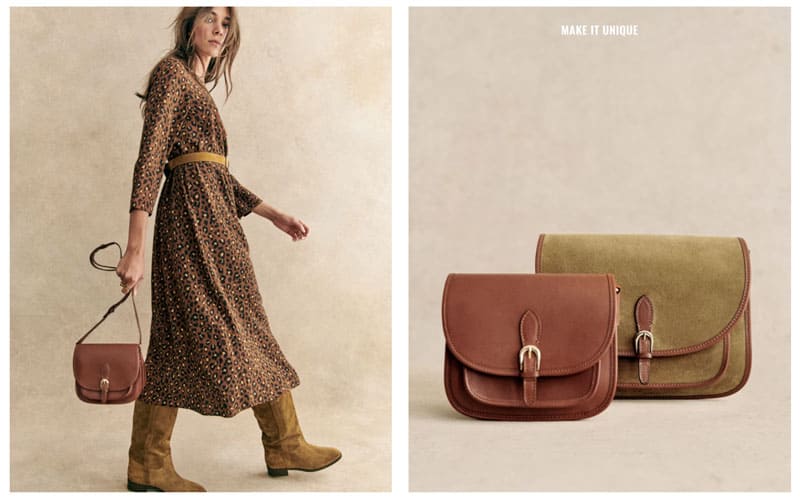 #2: The Romeo
Like the Milo, the regular-sized Romeo ($345) is made in Italy from leather with a cotton liner. I really love the Large (Grand) Romeo, a classic flap-closure bag in some fun colors (well, taupe and black, both $365).
The Grand size is the biggest of the leather bags (outside of the largest Farrow, which I think doesn't count since it's a bucket bag): 7.8 inches x 10.6 inches x 4.7 inches.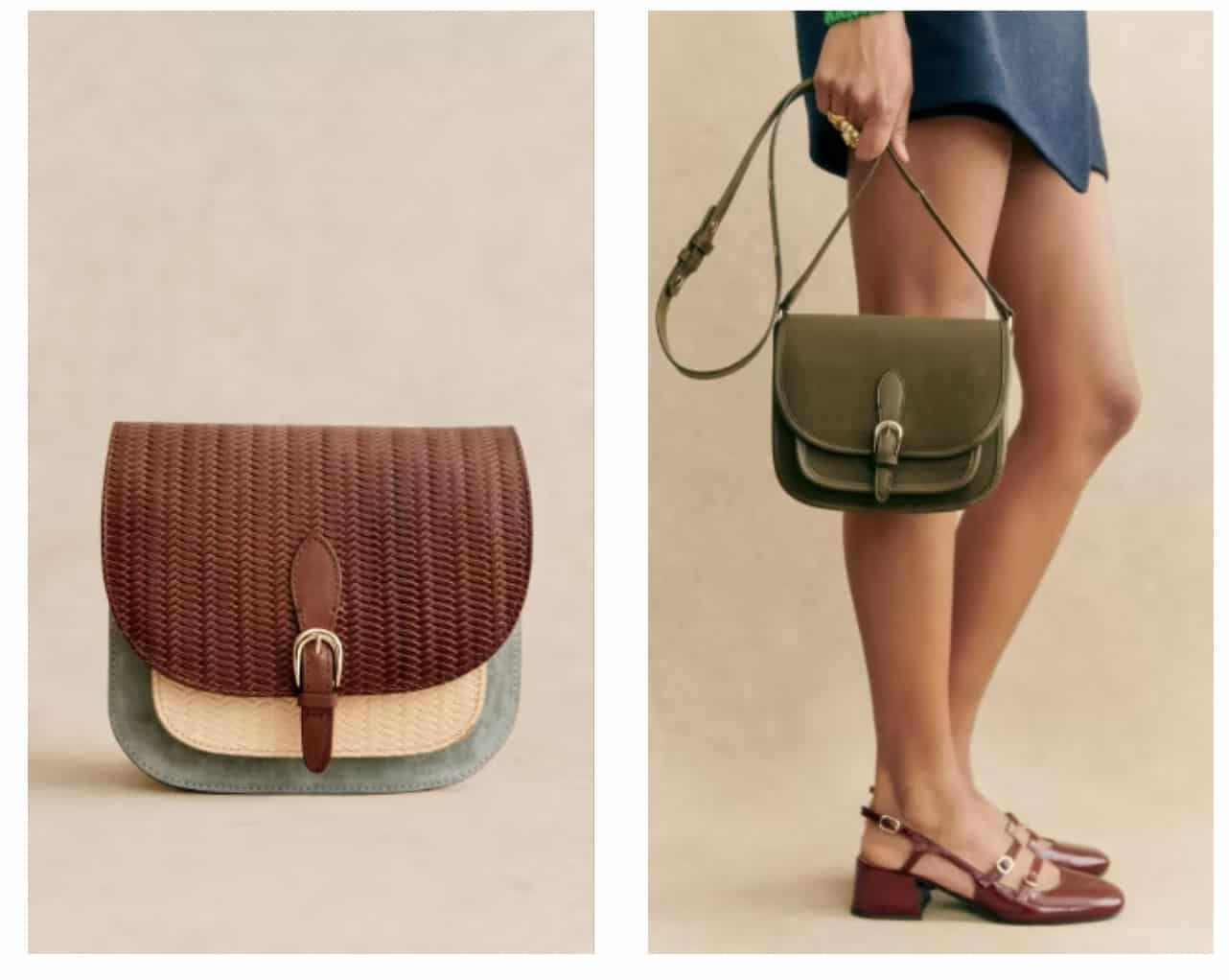 The regular-sized Romeo is smaller: 6.2 inches x 7.4 inches x 4.7 inches. The one I like best is the one that mixes a brown woven with peach and seafoam (seen above on the left).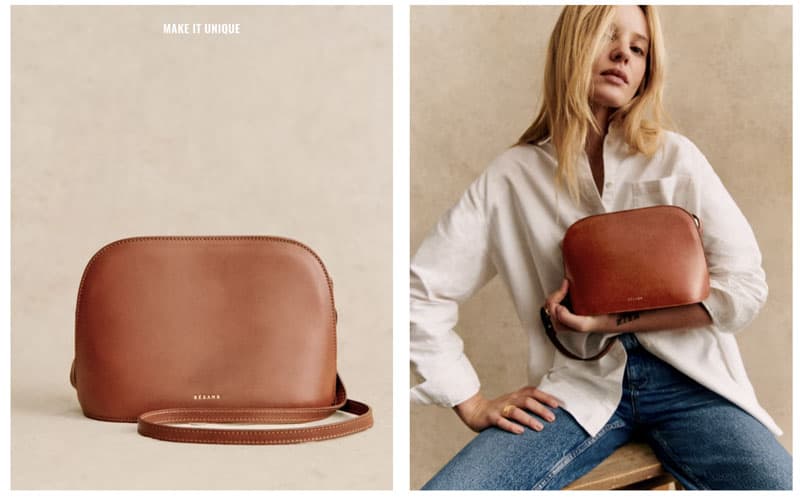 Does this look like a car's headrest? A bowling bag? I don't know, but I don't love it. Same specs, generally speaking: made from leather and made in Italy. The regular-finish Victor is only available in the Natural Heritage color (seen above), that same cognac-y brown ($375).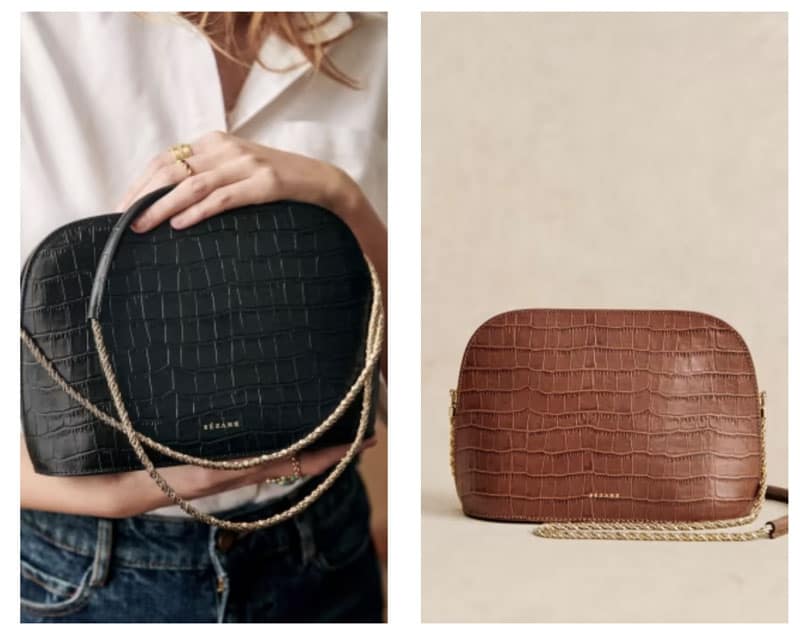 The Victor also comes in a "croco-print" leather for a little more ($390), in brown (with a non-adjustable light gold chain — by far my favorite) and black (with a non-adjustable leather (but still elevated) strap).
Maybe you love a bucket bag. Moi? J'aime pas a bucket bag. The Farrow comes in three sizes, with the biggest 10.2 inches x 9.2 inches x 6.7 inches. The strap is 38.2 inches and adjustable.
The more interesting variations include a crocodile-embossed leather and an embossed blue leather. It also comes in a tiny micro version ($235): 6.6 inches x 7.4 inches x 4.7 inches, including a lovely rosy color (aka "vintage blush", $235).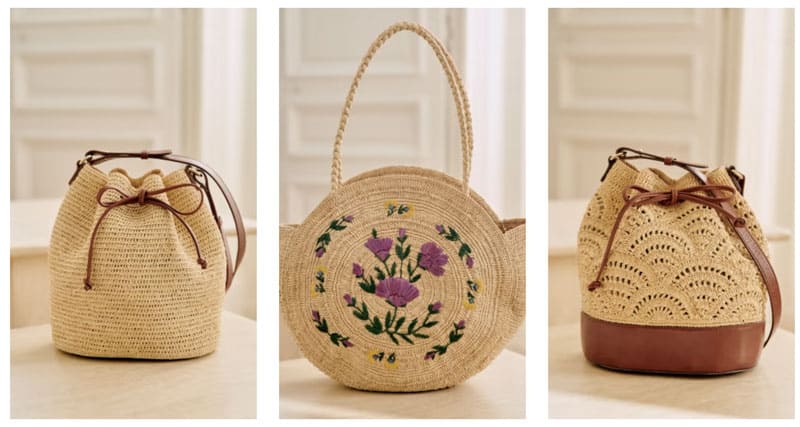 Sezane Bags: The Raffia Summer Collection
So the other main category of Sezane bags is the summer raffias. I find it amazing that they can charge these prices — if you've ever had a raffia bag, you know that they're doomed to fail, the raffia is just too delicate a fiber to withstand day-in, day-out wear. They show incredible craftsmanship — it's no surprise that they're made in Madagascar, not Italy — but I would be stressed every time I took it out. (Also Sezane advises you not to take it out in the rain, which, like, sure, but that just seems even more stressful.)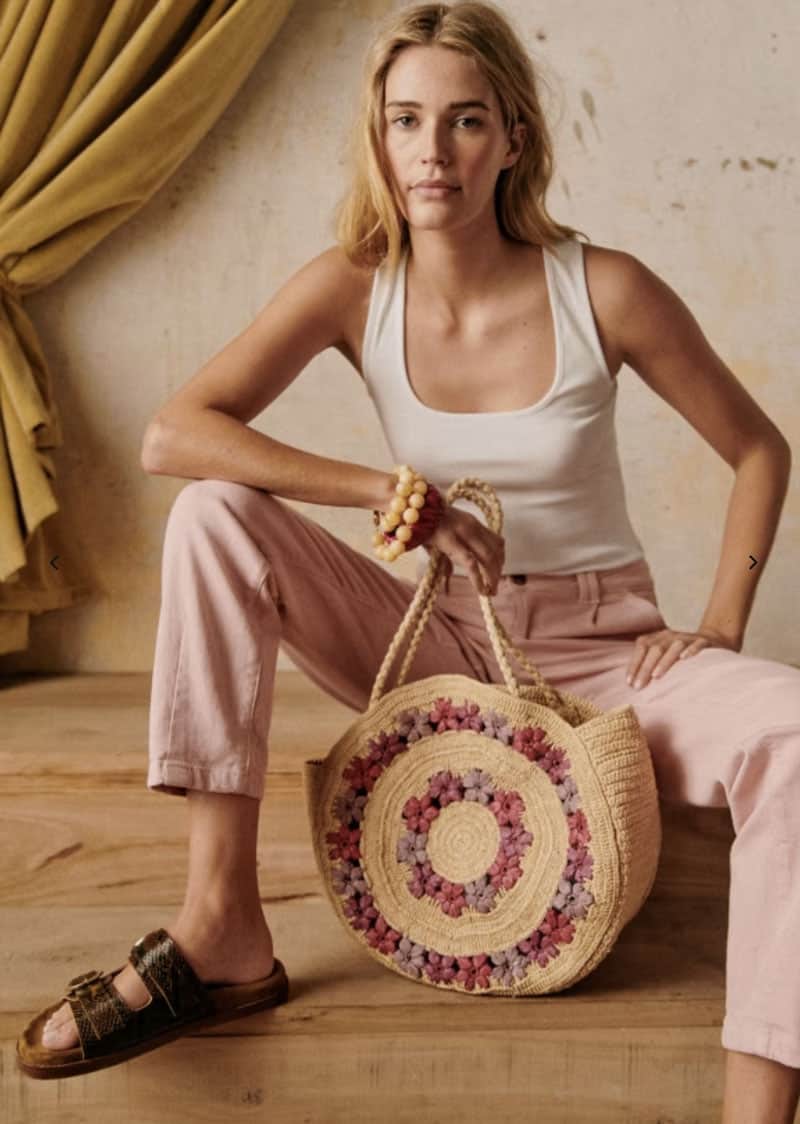 The June bag ($210) is great looking but still: stressful. Look at all that handwork! Ugh, it's amazing. It'd be so scared I'd destroy it. I've held this IRL and getting up close to it did nothing to assuage my fears.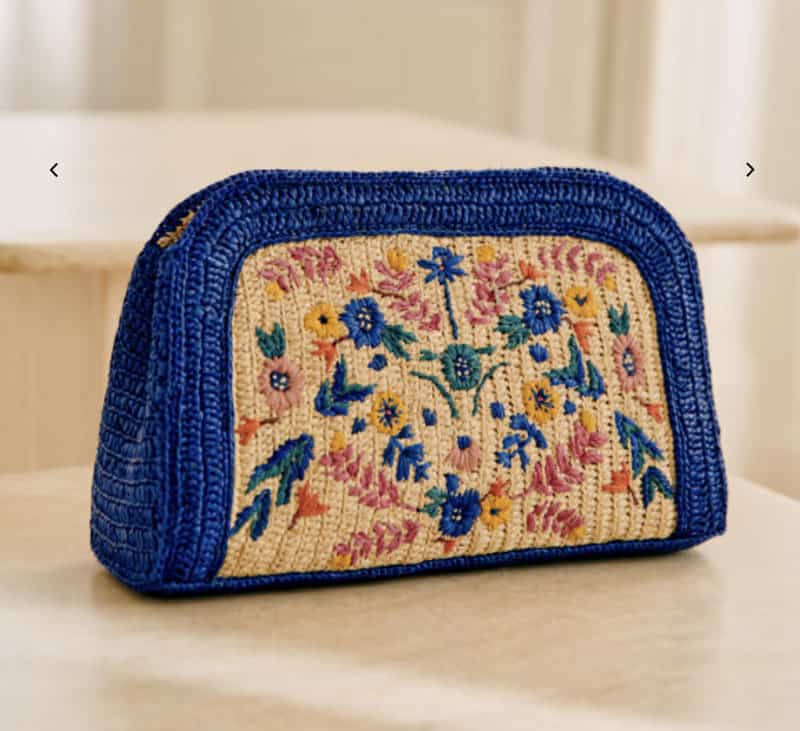 I do think the Carla pouch is very cute and could be great at a very specific sort of summer wedding, but it's a lot of money. This is one of those tricky things: Sezane makes a big deal (as they should) of using audited factories, and it highlights the number of hours (54) necessary to braid one of these pieces. To pay that worker a fair wage, a higher price is appropriate. But this might not be the piece to prove that, given its durability factor and limited style vocabulary — I don't know about you, but I feel like I would use this twice a year, whereas that Grand Romeo above would get constant use.
Frequently asked questions about Sezane bags:
Where are Sezane bags made?
Most of the leather bags are made in Italy, while the raffia pieces are mostly made in Madagascar. This information is clearly shared in the "Details and Composition" pane of each product listing.
What are Sezane bags made of?
The leather bags are vegetable-tanned cow leather.
How much does it cost for shipping?
Sezane offers free shipping to the US for purchases over $200, which happily or unhappily covers most bags.
How long does shipping take for Sezane bags?
I think many people are surprised by how fast Sezane's shipping is, even from France. They ship within 2-4 days, and all my packages have arrived within a week after the ship date. It's not Amazon, but it gets there.
See much money you'll save by buying Sézane in France here. 
Buy Sezane bags here. Prices and availability accurate as of July 2023 (these will surely change). Affiliate links above.