What to do in Paris: The Absolute Must-Dos
1. Sit along the banks of the Seine as the sun sets — ideally in June, but if you get lucky with the weather, you can do this literally all year round. And ideally you'll get to do this several nights in a row — which means you can try out a bunch of different spots. My favorite include: the Right Bank right below the Sully-Morland métro stop, the southern bank of the Ile Saint-Louis, the stretch of the Left Bank between the Sully and the Jardin des plantes, in the Jardin Tino Rossi. If you're there in August, look for the Paris Plages.
2. Well, you probably have to go up the Eiffel Tower; it's required.
3. Even better, though, watch the Eiffel Tower put on its nightly sparkle show from the steps in front of Sacre-Coeur, up in Montmartre. Obviously you'll want to go late; follow it with dinner at La Boite aux Lettres, on rue Gabrielle. The show lasts five minutes, and starts every hour on the hour.
4. Have you even been to Paris if you haven't take a boat ride along the Seine? Batobus is the best of all the options — more utilitarian, sure, but there are better places to have dinner in Paris, and with a Batobus pass you can trade the métro/Uber for a day to roam the river to your heart's content.
5. Notre Dame is now one of the world's most expensive construction sites, but it's still a necessary stop. Go to the eastern end for a view of the damaged roof; on the western end, take a look at the temporary exhibits along the sidewalk showing the interior of the structure, and then head all the way to the western tip of the island to see the beautiful (if small) Square du Vert Galant.
6. Sainte-Chapelle is right next to Notre Dame — but for an even better historic chapel, hop on ligne 1 to go just across the city limit to the Chateau de Vincennes. (Here's a full field report.)
7. The Chateau de Vincennes feels like a military fortification (there's even a moat!). If, however, you want a chateau in the sense of a palace — well, for that, you obviously want Versailles, easily accessible by RER (or Uber, if you're swimming in cash). Do whatever you can to avoid crowds (coming off-season will help) and just accept the fact that there will likely be crowds. If you like, watch Sofia Coppola's Marie Antoinette beforehand, even if the film was largely shot elsewhere (including Vaux-le-Vicomte and the Château de Chantilly).
8. The Jardin des plantes is just the most wonderful place in Paris, and that's really all there is to it. Possibly most beautiful in April, as the cherry trees are blooming, but the hard-working gardeners make sure there's always something to see. Bring a lunch and grab one of the benches beneath the plane trees. This is the first place I take people when they visit.
9. If you've had your fill of outdoor drinks along the Seine, next up is outdoor drinks along the Canal St-Martin.
10. Keep walking north along the canal to where it intersects with the elevated ligne 2 — then continue beneath it to the Bassin de la Villette, with its own outdoor drinking spots, plus swimming during the summer and paddle boats, too. There's a movie theater on each of the facing quais in case you're looking for something slightly less active.
What to do in Paris: Museums
1. If you'll be in Paris for any length of time — maybe a month? — do yourself a favor and become an Ami du Louvre, which allows you free access to the museum. Go every day, get to know a single specific gallery, and spend the next six months boring your friends back home with every detail of the Islamic Gallery (which is exactly what I did). The trick with the Louvre is to bite off precisely as little of it as possible, and go deep, versus wide. I mean, go wide too, and see everything, but come back with your membership pass and dive into a single room.
2. You'll probably want to see the Mona Lisa, but the painting I always make a beeline for is Jeune orphéline à la cimitière, by Eugène Delacroix.
3. Other than that, the sculpture garden in the Cour Marly is extremely lovely.
4. The Orangerie is a spectacular way to see Monet's eight, huge water lily paintings — depending on your tastes, it's might the best visual art experience in the city.
5. You wouldn't want to miss the Musée d'Orsay, with its spectacular setting (a former train station) and world-class collection of mostly pre-WWI French art (basically every painter you were ever tested on in art history).
6. The Centre Pompidou is worth visiting when it has an excellent exhibition on (this happens often). Of course, the building, by Richard Rogers, will be of interest to architects; those not excited by the whole world of aesthetics will want to get a look at the Parisian skyline from the top of its bank of escalators. Note it will close in 2023 for a years-long renovation.
7. The Palais de Tokyo doesn't have a permanent collection, but its exhibitions — showcasing the most contemporary of contemporary art — can be excellent.
8. Fondation Cartier feels midway between a museum and a gallery (a very beautiful, high-end gallery, of course). The grounds themselves are worth a look, with architecture by Jean Nouvel and a small woodland to the building's rear, designed by German conceptual artist Lothar Baumgarten.
9. It's worth trekking out to the Bois de Boulogne to see the Fondation Louis Vuitton, with a collection safely tucked inside a building designed by Frank Gehry. If you're looking for a post-museum activity, you'll be right near the starting point of the GR1, a 500+ kilometer trail that swings all the way around Paris.
10. Especially if you don't want to leave town to see one of the palaces, the Musée Jacquemart-André is part stately home, part art gallery. The former includes what is undoubtedly the prettiest stairway in Paris.
11. I really should not mention the Musée Nissim de Camondo because I find it a bit boring compared to the other museums on this list, but it does have the most Wes Anderson-y, beautifully designed bathroom.
12. If you've been to the Picasso museum in Barcelona, I'm not sure that the Paris version is worth the time, especially if you're on a tight schedule — it really depends on the quality of the visiting exhibitions, which have ranged from sublime to so-so. The building itself is beautiful, and take the time for a drink at La Perle, the neighborhood hotspot about 50 meters west.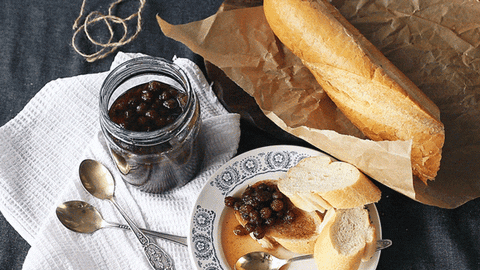 What to do in Paris: Food
1. My favorite thing to eat in Paris is a croissant. There are all sorts of lists of where to buy the best, but I love all croissants equally. (Though possibly those at Miss Manon in the Marais slightly more than all the others.)
2. I do not love all beignets equally. In fact, I am quite a snob about them, and only eat beignets from the Coquelicot bakery in Montmartre, which was my local spot before moving back down that massive hill.
3. Speaking of bakeries! It's French law: You need to eat a baguette within 30 minutes of buying it (yes the entire thing) or you are sent to jail. Seriously, though: It's not Wonder Bread (I was raised on Wonder Bread, I'm not judging), so forget "saving it for the morning." Note that a tradition is the better version of a baguette. (Here's a primer on the differences.)
4. You might like those cute little épiceries with a half-dozen products for sale. I, however, am from New Jersey, and so I must naturally gravitate toward the most mall-like offering — in this case, La Grande Épicerie at Le Bon Marché, which has everything — a fishmonger, a bakery, a cheese shop, etc. etc. — a person could want from a French food experience (as well as an entire shelf devoted to American products, including Fluff.)
5. If you're looking for a slightly more refined experience, try Maison Plisson. Don't let all the perishables on the ground floor put you off — head down the steps for a travel-ready selection of oils, snacks, sweets, wines, and much more.
6. If you would prefer to actually go to several specialty shops instead of just one, it is time for a tour down rue des Martyrs in the 9th. It is sort of a food paradise, with one fancy food shop after another — my favorite is the local outpost of mini-chain La Meringaie, which sells nothing but meringue pastries with seasonal fruits.
7. If you want to eat and drink how actual Parisians are eating and drinking, head for one of the Wild & the Moon locations — it's "vegan to go" as inspired by the co-founder's time in New York (presumably taking a lot of meetings at Sweetgreen). I would be lying if I said I hadn't ordered many, many protein shakes from the one on rue Amelot.
8. Of course, you might want something more sophisticated than an acai bowl. In that case, it's time to go to one of Paris's many Michelin-starred restaurants. And oh — what's this? A list of 17 Michelin-starred restaurants offering meals (read: lunch) at under 55€?
9. The trick at 99% of cafés with lovely Parisian outdoor seating is: Don't eat there. Just drink there. My current favorite is Le Bastille.
10. If you're still looking around for somewhere to eat, Le Fooding is your next stop. I found most of my favorite restaurants by plugging my postal code into their "best restaurants" finder, including Le Mary Celeste and the Café de la Nouvelle Mairie — plus, it's free and in English!
What to do in Paris: The Day and Weekend Trips (Local)
1. Nothing can beat Monet's garden at Giverny, which is just staggeringly beautiful. Crowded, always, but for some attractions, you just gotta live with it, and this is one of them.
2. There are several Van Gogh-related attractions in Auvers-sur-Oise, but the best choice in the matter is to do as Van Gogh himself did, and head out into the surrounding countryside for a wander. The French love a hike, so if you do, too, just search for "randonnee" plus your destination — for example, here's Visorando's hikes around Auvers.
3. Thanks to the super-fast TGV trains, Lille — a three-hour drive — is but a one-hour, extremely comfortable, not-cheap-but-not-cataclysmically-expensive ride away. I love Lille, especially as a counterpoint to Paris — it's right on the border of Belgium, something that should be evident from all the Flemish-y architecture and the seemingly universal preference for beer over wine. While you're there, visit Louvre Lens (the Louvre satellite in nearby Lens) and La Piscine in equally nearby Roubaix, which is part museum, part spectacular indoor/highly Instagrammable pool.
4. Le Havre is just as great as Lille, and with an entirely different feel: Norman, not Flemish. While in Lille you can still hear the echoes of World War I, here it's the effects of World War II that remain visible: The city was heavily bombed (by the Allies, and particularly the British Air Force) toward the end of the war, leaving literally half of its 160,000 inhabitants homeless. The modern architecture, though a product of tragedy, is beautiful: Be sure to see Auguste Perret's Star Wars-esque Eglise St-Joseph, the excellent Museum of Modern Art, and Perret's apartments, created after the war to provide immediate low-cost housing to the displaced.
5. Imagine the Hamptons, if instead of a beach you had rolling French countryside, and you have le Perche, where generations of Parisians head to their parents' magnificent country homes. It really is beautiful. I don't like all the travel writing in the Times, but this account of visiting, though from 2007, is spectacular: "It's two hours from Paris, I was told, in lower Normandy, not far from Chartres. "It has glorious manoirs and chateaus and is famous for its Percheron," Michèle wrote to me, "the noblest, absolutely most gorgeous horses in the world." Let's go!!!
What to do in Paris: The Day and Weekend Trips (International)
1. London!!! If you haven't been, you must. There is nothing more magical than heading north for the weekend, and coming back on Sunday with a suitcase full of books, Cheddar cheese, Marks & Spencer snacks, and as many Sunday newspapers as will fit. Go via Eurostar, from the Gare du Nord. 
2. Amsterdam: In under three hours via Thalys, you can go from the Louvre to the Rijksmuseum, for a sunny stroll along the canals. Amsterdam is just wonderful, as is the surrounding, easily accessed countryside — especially in April, when the entire place is carpeted in tulips (well, maybe not the entire place, but enough.) Go via Thalys from the Gare du Nord.
3. Zurich: It is, rather unbelievably, possible to do Zurich as a day trip from Paris, as long as you don't mind spending a lot of time on the train. If you go in winter, head immediately to the Thermalbad spa, with heated pools overlooking the surrounding mountains — and if you're there in summer, join the rest of the city at the many outdoor pools. Go via TGV Lyria from the Gare de Lyon.
4. Luxembourg: When will you have another chance to see an entire country in a single day? What's there to do? Not much. The Adolphe Bridge is very pretty, as far as bridges go. The cathedral? Why not! Then hop back on the train and come back to Paris. Go via TGV from the Gare de l'Est.