Paris home décor vibes, even for that grand Parisian apartment style that's so popular on Pinterest, are easier to bring home (or just buy) than it might look.
Start with this: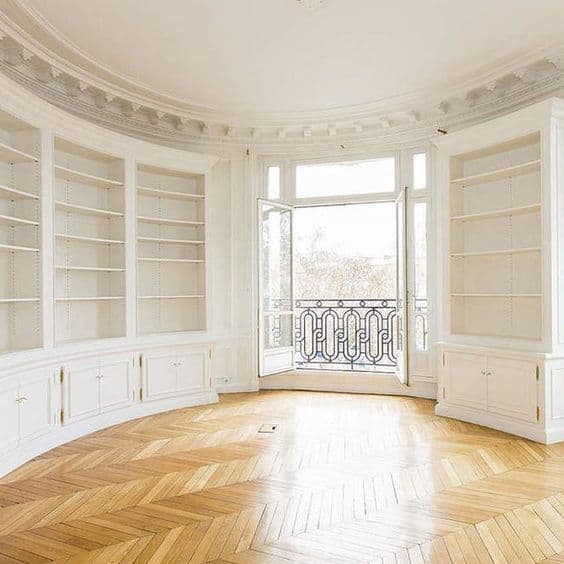 I mean, I'll move in tomorrow. But what we have here are the bones of the best apartments in Paris. You may or may not have these elements easily available. They are:
– bare hardwood floors, ideally well worn but well maintained, and even more ideally, in this gorgeous herringbone pattern
– white walls. You don't see a lot of "pops of color" walls here. It's too dark! It's the same reason all those Scandinavian apartments have white walls. It's too f-ing depressing otherwise.
– floor-to-ceiling windows, or as much natural light as possible. (See above: This is a necessity given the fact that we are for real in northern Europe and the amount of sunlight half the year is pathetic.)
– built-in shelves
Any one of these is a great place to start. No matter what, you can do white walls. Now clear out everything, and let us add carefully back in. These five elements say "Parisian apartment style," and you can find them at home or on online retailers.
We publish two great newsletters: Sign up for a weekly dispatch about travel and Paris — or for our new weekly email about shopping (mostly French brands but a mix of everything!)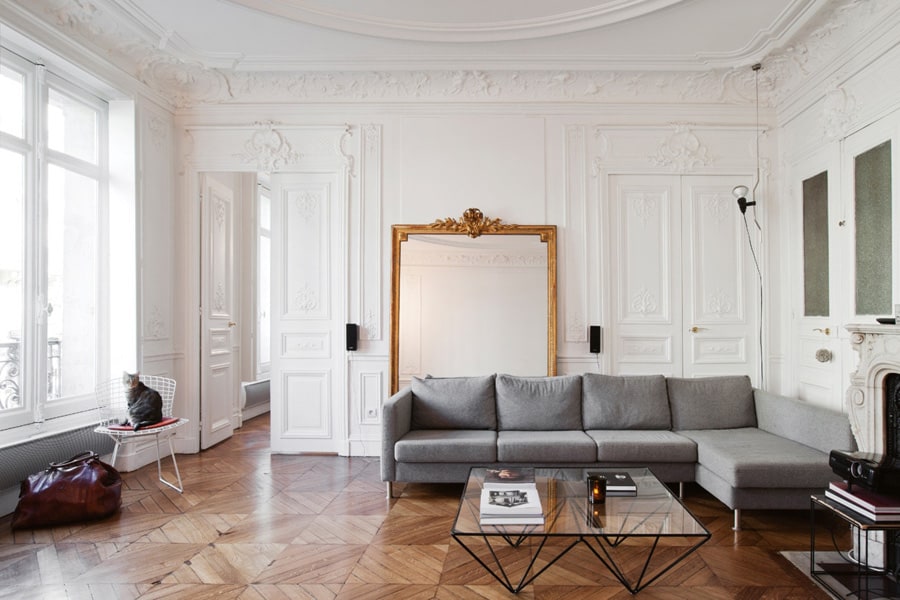 Element #1: Oversized gilt mirror
What could be easier than that? Giant mirror, and it's the dominant design note in the room. And it reinforces the fact that 90 percent of what's happening here is the diligent collection of our tiny allotment of sunlight: Nothing makes a room brighter, faster, than a gigantic mirror.
It makes sense in this room because the moldings are similarly ornate. If the room was plainer, I'd swap a more industrial-vibe mirror for this one. I love these beveled ones.
Selency has the best selection of gilt mirrors. 
If it's tricky getting a vintage mirror back from France — and few vintage purchases are trickier, all that glass and everything — you can futz around the edges.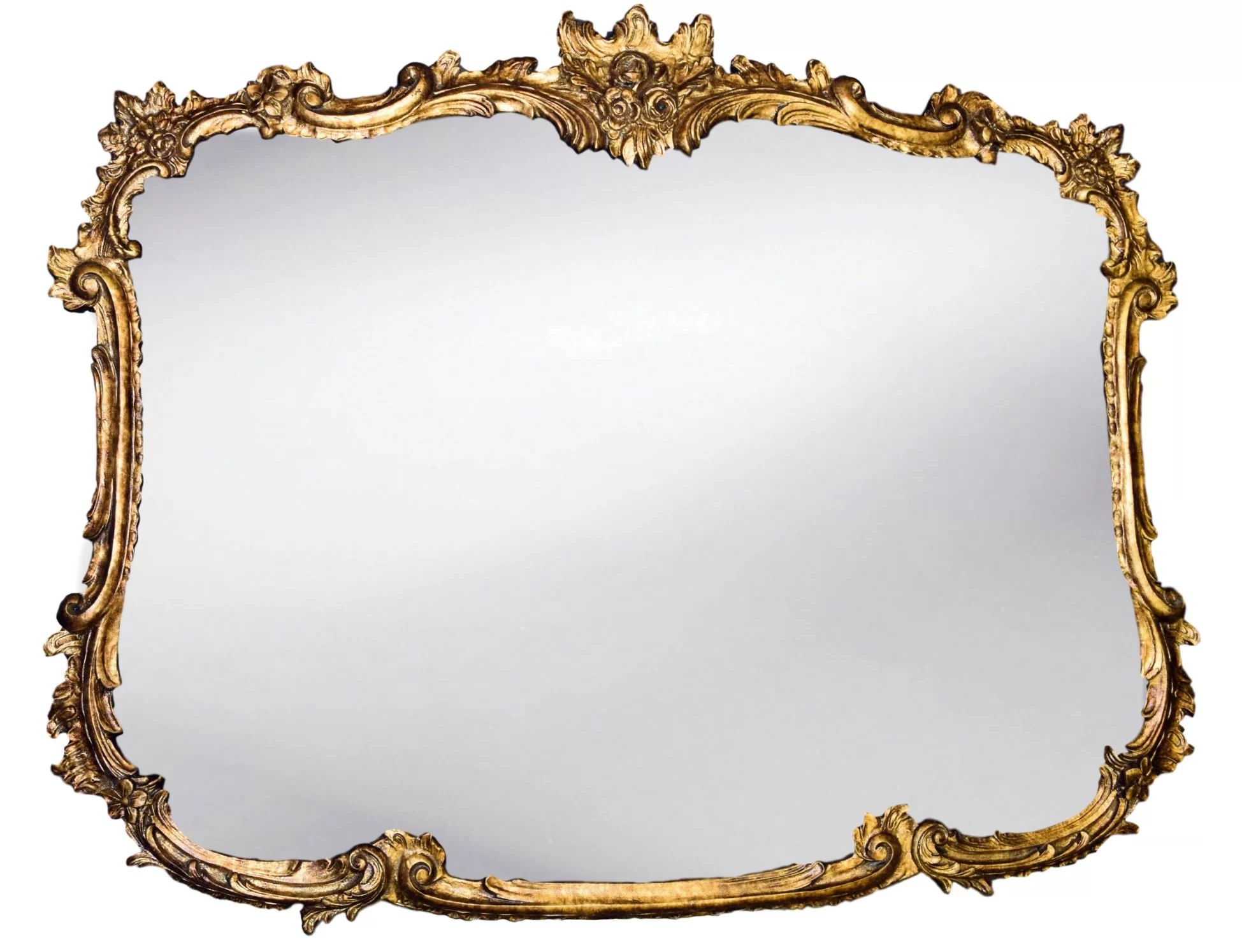 I don't think most people would know this wasn't vintage without getting a close look at it. Rogan asymmetrical wall mirror, $519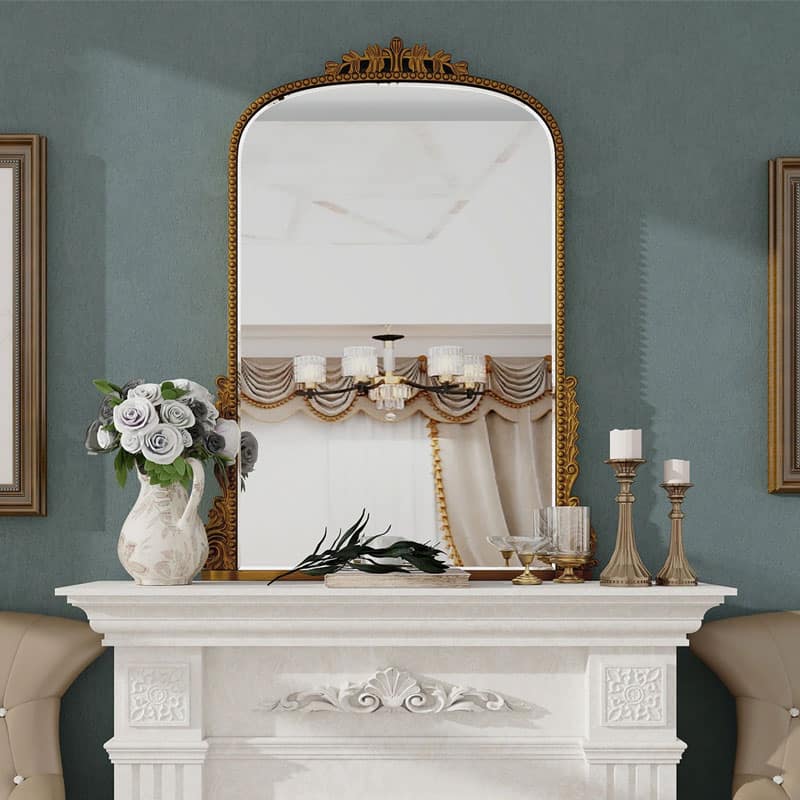 This mirror is "pre-distressed" — I mean, barf, but it's also just over $100, while shipping a mirror back from France would probably cost that much. I wish it were a little bigger (lengthwise), but 23″ isn't bad. House of Hampton mirror, $136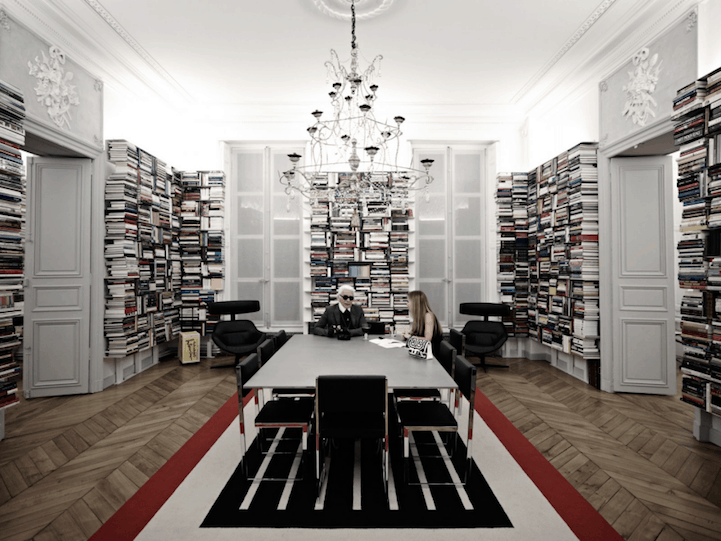 Element #2: Books, books, books, books
The French love their books, and they love their libraries even more. Whether you're using IKEA shelving (the French love these, BTW) or built-ins (of course they love these more) books are meant to be kept in libraries — not so much to show them off as to leave them available for easy access throughout the day. The myth of the French intellectual with his or her nose in a book — it's true.
Of course built-ins are the way to go. Otherwise, the Billy bookcase is just as popular here as it is everywhere else in the world.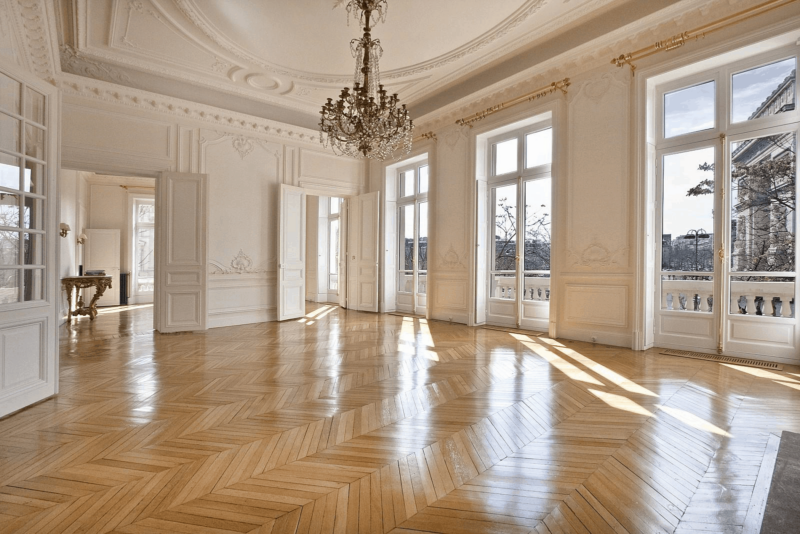 Element #3: Chandeliers
There are some amazing mid-century lighting pieces available (like this one — and this one? I can't even) — but I'm talking about a big old castle-style chandelier. A showstopper. Someone on my street has one, which you can see from the sidewalk — it's so gorgeous sometimes I'll just stop and stare at it. The bigger, the brighter, the better. The chandelier anyway — the apartment  is super small. It's the magic of Parisian apartment style — any apartment is big enough for a chandelier, even the tiny ones.
I also like Selency for these. They have a section devoted to classic chandeliers. They have another section called "Wahou" that's literally just the amazing ones, but there's plenty of newish ones in there, and I really think the way to go is with a classic old one. 
I don't think you can replicate the look of vintage crystal on a budget, but I also think that life is short and maybe who cares? And new ones have dimmers! Emoji shrug.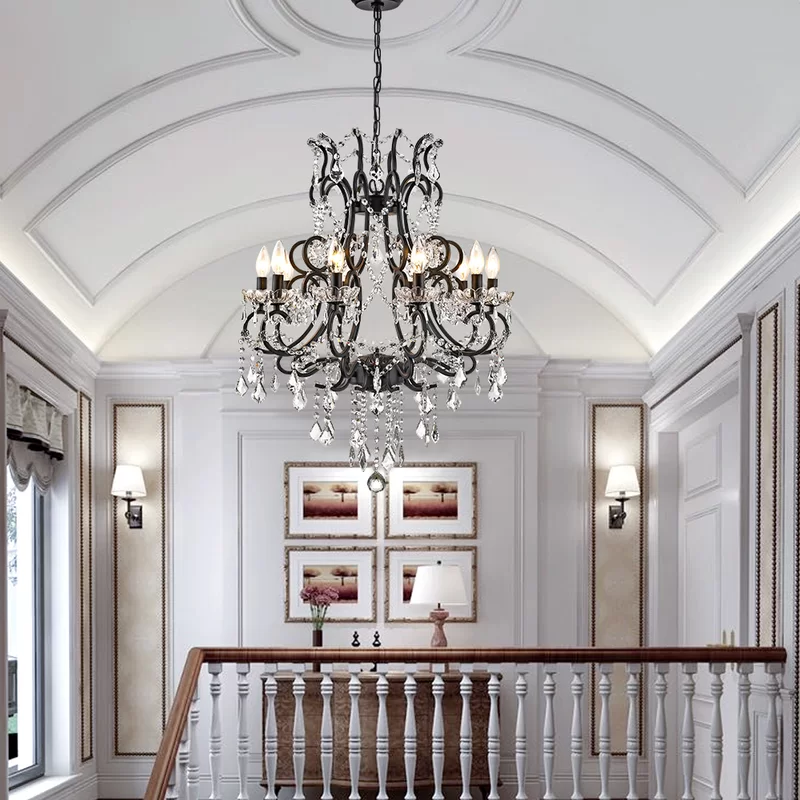 House of Hampton chandelier, $269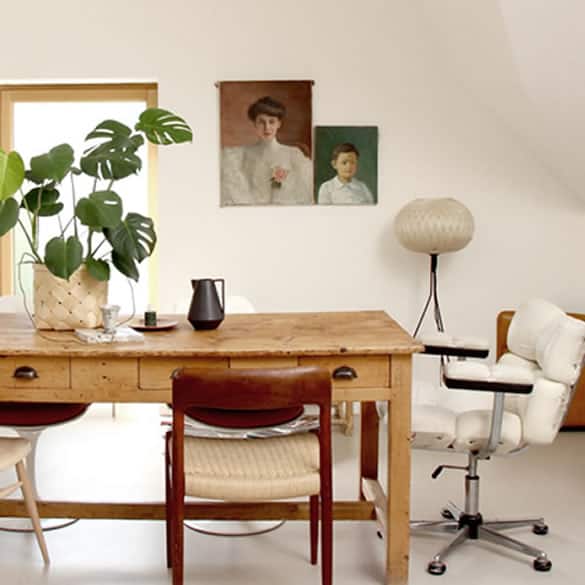 Element #4: Oil portraits
More and more of these are showing up French flea markets as demand rises — so buy now! If you're lucky you can get one cheap, but the nice ones will be €200 and up. I don't know — to my eyes, a lot of these look straight out of a museum, so that price seems pretty reasonable to me. (And that's €200 framed, often, too!) Nothing says instant class like a wall full of oil portraits.
We have some. 
Etsy has loads, just be really careful that you're not buying a digital print — which is totally fine, I guess, but I would be surprised to see one in a French apartment. I'd rather buy a small original than a large repro.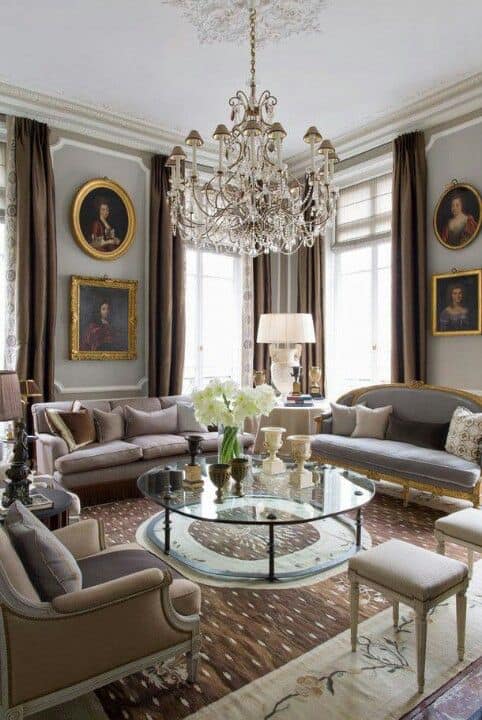 Element #5: A classic Louis XVI banquette or sofa
Many of these will need some level of repair or reupholstery, and I'm not sure if they're actually comfortable to sit on (spoiler: They're really not, very.) But they are so dramatic and so stylish, and I love them in a grand Parisian apartment. Some day I'd love to have an entire apartment done up in Louis XVI pieces — basically, palace-style. Louis XVI, for the record, was the French king who married Marie Antoinette, so these pieces reflect her vibe: over-the-top elegant.
1st Dibs has a useful and comprehensive guide on distinguishing Louis XVI from Louis XIV and Louis XV styles.
Of course there are variations on the Paris apartment style theme — or at least this version of it, which is all white walls, subdued elegance, etc. My favorite is the overstuffed jewel box look, as exemplified by Amélie Poulain's — and it's so different from the general French vibe that it's worth its own post: stuffed velvet chairs, vintage perfume bottles, antique wallpaper. It's a look. Check it out here — and then consider 19 things I learned about home decoration from Amélie.
And then you might see something like Céline's apartment in Before Sunset, which I love. It is also worth its own post, and it's the interiors vibe I actually see the most here: a couple vintage pieces (see the sign above her head in the still image below), tons of books and music, some pieces from her travels (there's what looks to be a Moroccan/North African lamp above her shoulder at 1:12), and world's cheapest/shittiest sofa, the one Ethan Hawke's sitting on.
So! Amélie's apartment is the dream vintage apartment. Céline's mish-mash is the vintage-inflected reality. And then, as a third option, we have the Pinterest style — which I also love, and which you can get close to with a few pieces. (It's certainly easier than Amélie's.)