Kayserberg earned a terrible claim to fame, for a reason that made headlines worldwide. God bless Anthony Bourdain, a true embodiment of the best of France (his father's home) and his native New Jersey, with all of the passions of the former and the humor and sagacity of the latter. 
Weekend destination: Kaysersberg, Alsace
Why: It's the prettiest village in France! Also, hiking.
Total travel time to Kaysersberg from Paris, door to door: Going out: 3:45 (Uber-direct TGV-cab), from the Gare de l'Est to the TGV station in Colmar, then bus. Coming back: 5 hours (bus-direct TGV-metro)
Ideal time spent in Kaysersberg: Three nights
Glad I went? Yeah — it was neat to get a look at a part of France so different from Paris and the Normandy/Brittany corridor I know best
Would I go back? Maybe, at Christmas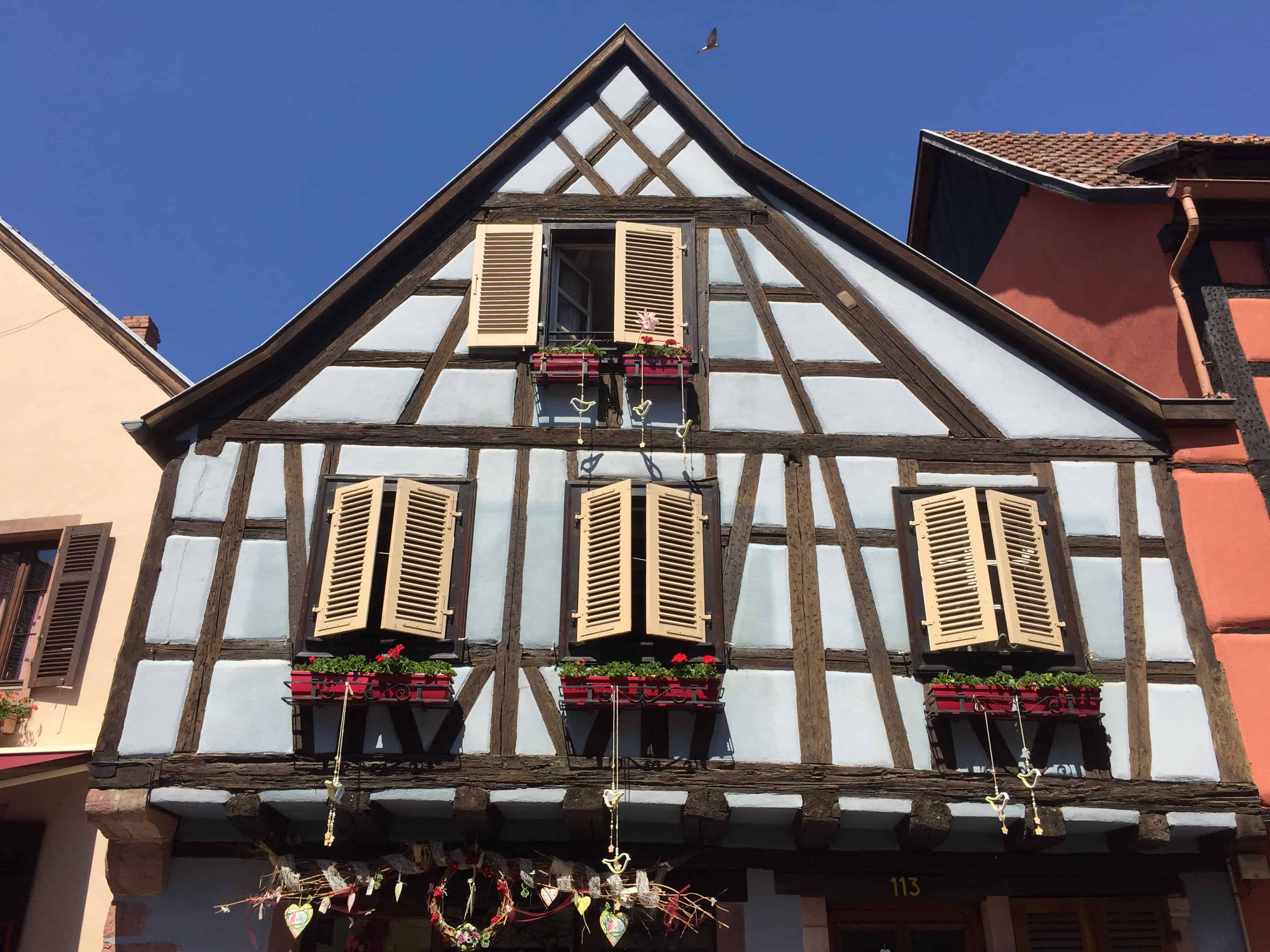 1. Kaysersberg itself
Kaysersberg was just named France's prettiest villages, a title which I personally feel is as meaningful as World's Most Adorable Puppy or The Planet We Like Best. Still: It is exceptionally pretty, and after endless miles of limestone in Paris, all the colorful timber-frame houses were hallucinogenic. (Normandy, say, has plenty of timber-frames, but they're nearly always white.) It is, for sure, a tourist town: I was worried about finding an ATM, only to find that there's one on every other block, no doubt to facilitate the purchase of stuffed storks or Alsace-themed soup rests.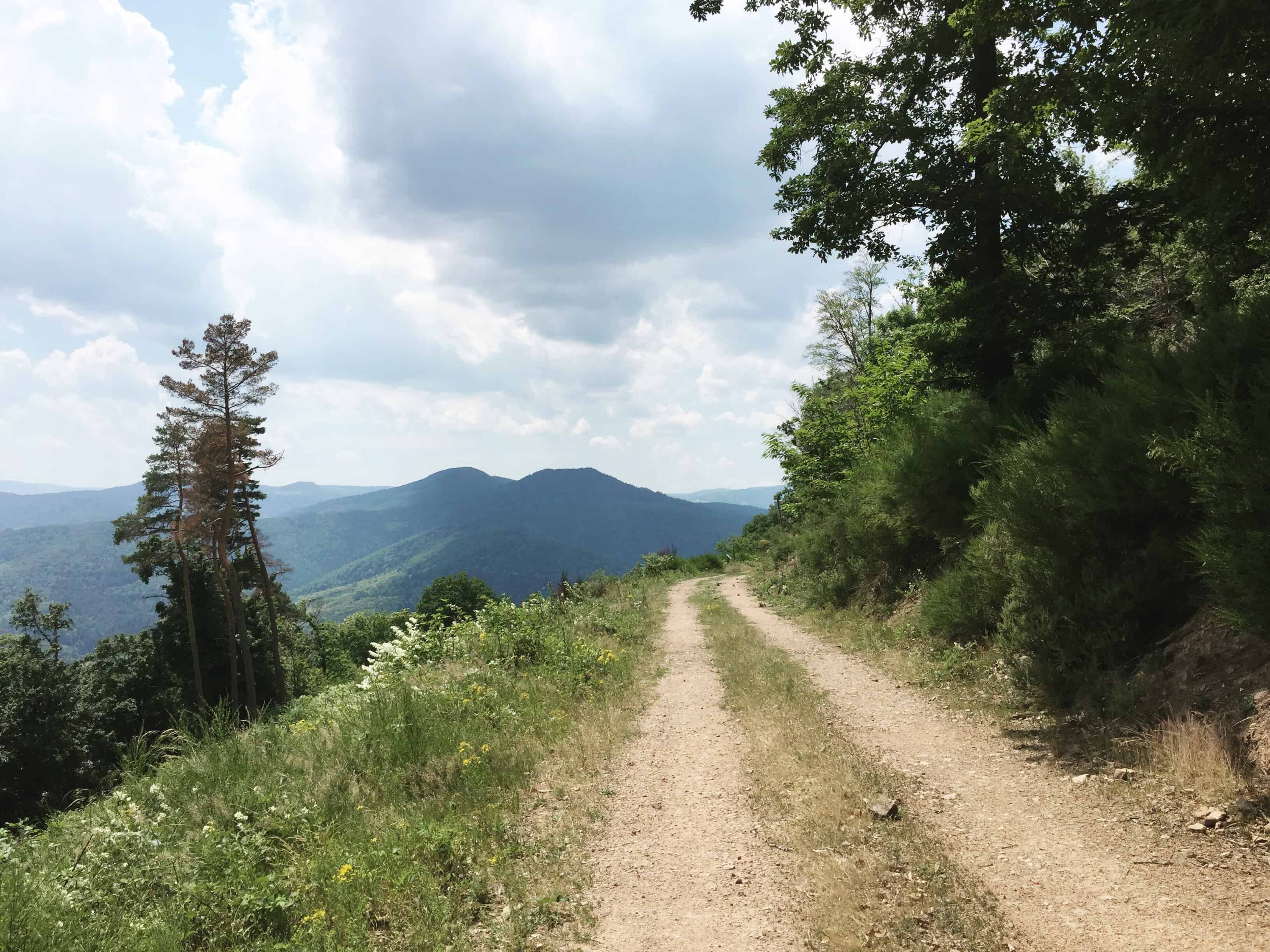 2. A Kayersberg hike led by a magical tree
I don't know if the person who created this trail did so like immediately after a particularly moving section with the Ents from Lord of the Rings or what, but this is a four-hour hiking trail visiting notable trees above and around Kaysersberg. You may think, as I did, that the fact that the trail is led by a talking tree would indicate that it would not be particularly difficult. This would be incorrect. It wasn't killer, but it was a pretty solid four hours, and the first 45 minutes are straight up.
Look for the trailhead in the extremely pretty garden behind the Kayersberg mairie, on the way up the steps to the Chateau de Kayersberg. From there, you'll be following the dancing tree signs.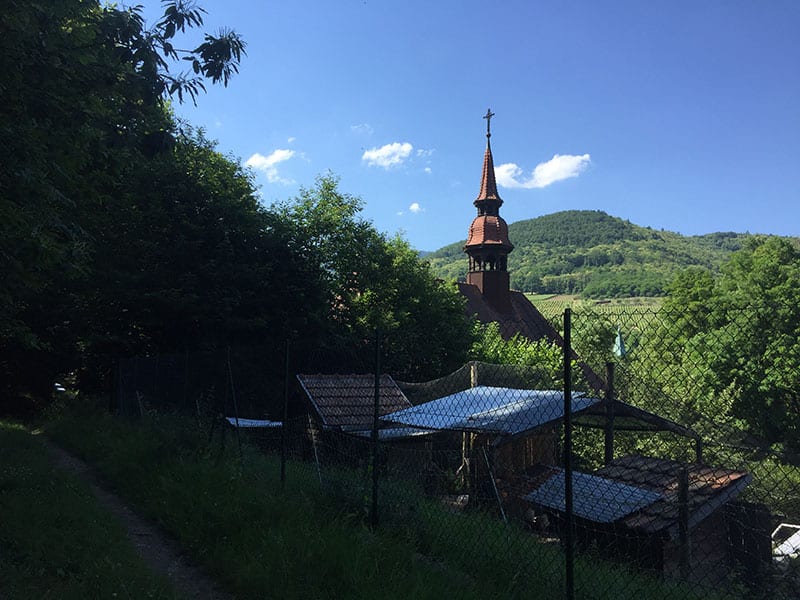 3. All the other hiking
Local hiking groups have created a bunch of other, color-coded hikes in the hills above Kaysersberg. I found them poorly and intermittently marked, though after a few days I realized that 30 minutes of hiking without an indicator was not, in fact, a sign that I had missed a turn (unless, of course, it was). Look for red, blue, and green circles on white signs. I followed the green-circle tour from Place Gourad (at the northern edge of Kayersberg's  historic district), got lost midway through, and came back, disgruntled. That said, the walk itself was lovely.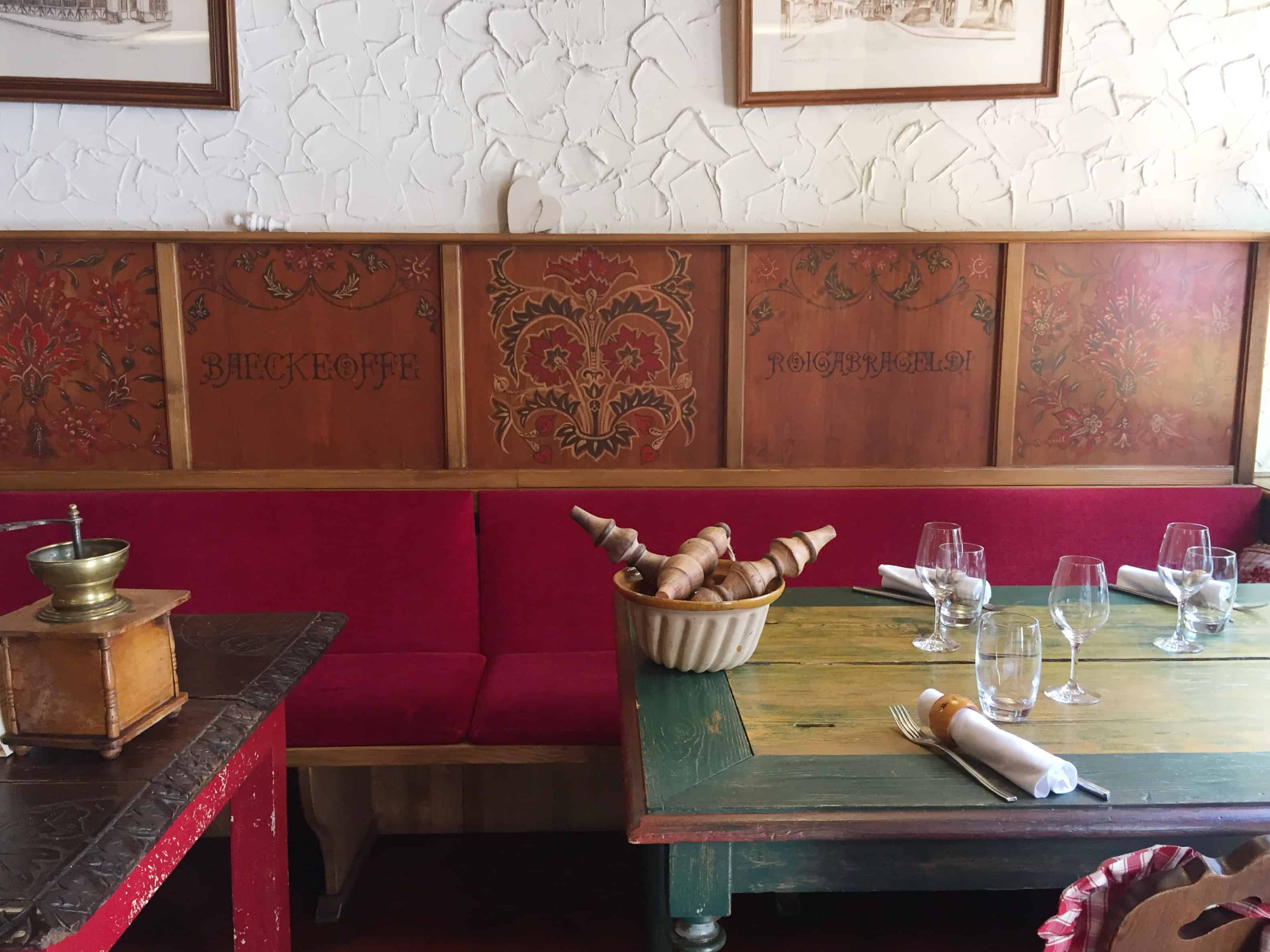 4. Le Winstub de Chambard
My biggest mistake in booking this trip was overlooking the fact that though it was listed as an "entire apartment," my Airbnb lacked a kitchen, which was sad because there's nothing I enjoy more than buying groceries for a little weekend away. (Also: significantly cheaper.) My first dinner in Kaysersberg was so bad I almost cried: €20 for a plate of raw scallops and shrimp, a hot stone on which to cook them, and a "Thai sauce" that I'm pretty sure was just a dish of sesame oil. ("C'est vous qui jouez au chef!") For my first lunch, I had a hunk of pork rolled in an inch of fat. I did not enjoy this.
Having completely given up, the following night I booked a table for the best restaurant with online reservations: Le Winstub de Chambard, the cheap(ish)/cheerful addition to the Michelin-starred 64° at Le Chambard, the fanciest hotel in Kayersberg. The menu is exceptionally meat heavy — and not just meat but like "the stag we just killed in the surrounding forest" meat — so I had exactly the same thing the two nights I went there: the entrecôte with salad and fries, followed by the chocolat moelleux, which is like a hot brownie and extremely delicious. I am not a food person, so take this recommendation with a grain of salt, but it was one of the best meals I've had in France.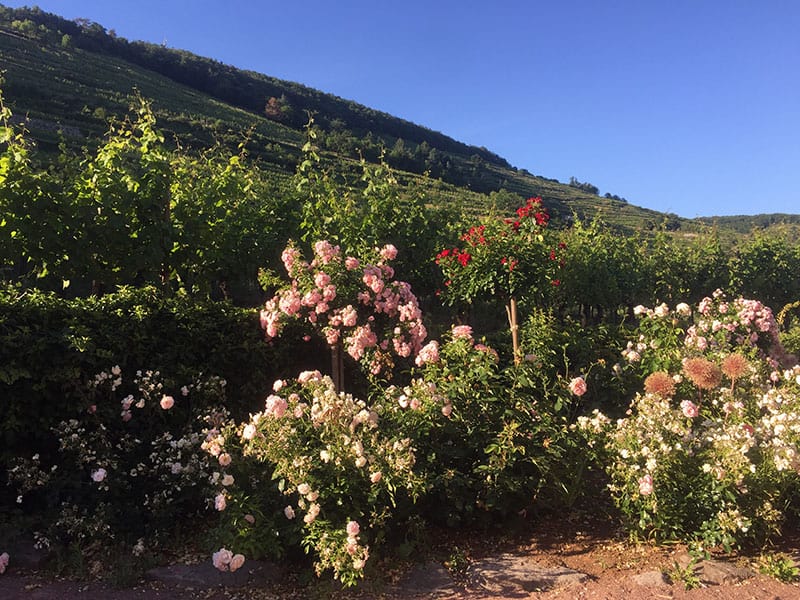 5. The garden below the Chateau de Kayersberg
That probably sounds like a very small and specific recommendation, and it is — but it is also lovely, and the view of the vineyards above is equally so. (This is a really good place to take pictures if you don't want to commit to a hike into the forest above.) From here, it's a not-terrible climb to the ruined 13th-century castle above, which I found most interesting for the surrounding landscape.
A few logistical notes. I did not like my Airbnb, so I cannot recommend it here. Thanks to the exceptional speed of the TGV to Colmar (2:20, if direct), this could conceivably be done as a long day trip from Paris, though I would think it would necessitate the use of taxis (about €30) each way from Colmar to Kaysersberg — otherwise there's a (slow and intermittent) bus between Colmar and Kaysersberg for €3.70 each way, every day except Sunday.
Here are some more of my favorite day trips from Paris by train.