I am bragging when I say that no one, in the nation of France, knows better how to mail a package from France to the USA. I do it ten times a week. (Five, at least.) The only way I would know more about this process would be if I actually worked for La Poste.
Figuring out how to mail a package from France to the US took me (I'm not kidding) months, and it is, indeed, a stressful proposition: Unlike, say, hotel staff, or even the people sitting behind the glass selling tickets to the Métro, La Poste staff aren't accustomed to (or interested in) handling anglophone clients. Even with their fellow French, they can be dicks. (Not all, but this is, let's say, not France's happiest workforce.) The good news is that I can tell you exactly, step by step, how to do it, and the good news is, you might not even need to speak to a person at all.
First, your options.
You can ship via international carriers like DHL (French site) or FedEx (French site), but they will be multiple times more expensive. The good news about La Poste is that it's fast and a fraction of the cost of those guys. I always ship via La Poste — I've literally never sent a package via FedEx, and I only received one that way once, because it had my actual prescriptions. If you're mailing a package home and you won't literally die if it's lost, send it by La Poste. The process isn't that bad.
Your next job: Figure out where the nearest La Poste is. The good news is that they're everywhere: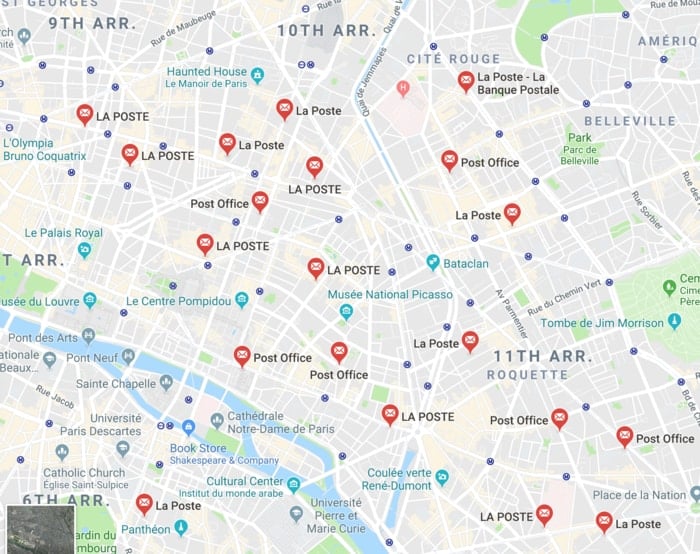 This is only a small part of Paris, and this isn't even all of them in these neighborhoods — Google only shows 20 at a time. I've lived in a half-dozen apartments in Paris, and I've never been more than a five-minute walk. Where I am now, I have four(!) within a 10-minute walk.
Next, you'll want to check the opening hours. This is France: always check your hours. Always. Of the two closest to me, one is open 8 a.m. – 6 p.m., and the other is open 10 a.m. to 8 p.m. (with the cut-off for international shipping at 6 p.m. — if you're not in there by then, your package will leave the next day.) Google usually has the hours, but you should double-check at the La Poste website. Here's the link for finding the location nearest you. You'll need your postal code — if you're in Paris, it's whatever arrondissement you're in, with 750 at the front. (If you're staying in the 4th, it'd be 75004; in the 15th, it'd be 75015.) Here's a map with all the locations in the 18th:
To get the hours, click on the flying bird (honestly, what is that) and then click "Détails et horaires." One thing to look for when you click is whether you're getting a "La Poste" or a "La Poste Relais". You want the former — the latter are often postal concessions within a larger store (often a grocery store). They basically work the same but personally I find them way more stressful. If you can, get a full La Poste.
Once you find a La Poste near you, click for the détails et horaires. You want the heures d'ouverture. Here, they're from 9 a.m. to 8 p.m., noting that the last drop-off for Colissimo, the service you'll be using, is at 4 p.m.
OK! Now that you have your closest post office, it's time to get going. Colissimo is the name of the international delivery service that we'll be using. Ideally, you'll want to box up your package if you can — France has Stapes and Office Depots just like we do. La Poste does offer flat-fee boxes for a variety of sizes (including up to 5kg and 7kg) but I find these rarely work out, value-wise. The big exception is if you're sending home wine — their "à franchir" bottle box might be useful, and they're available in the larger La Poste offices. Otherwise, I stick to my own packaging.
So you'll want to go into La Poste with your box ready to send. I always handwrite the address on the box, though the staff will inevitably cover it with the customs documents.
Your next step depends on the destination. If you're sending your package to the U.S. or Australia, or elsewhere outside of France, Switzerland, and the European Union, you'll need to get in line. If you're sending your package to within the European Union, you can head instead to the automatic kiosks.
You'll need to request the customs and shipping forms — these are two separate documents. I usually say something like "J'ai un colis pour les Etats-Unis," and they'll give you the forms to fill out.
This one is shipping. You'll need to fill out the shipper's address, the receiver's address, and the contents, all in French. There are no additional customs charges on packages from France to the U.S. under a certain amount (I think it's €700, but don't quote me on that) — in any case, these are your personal effects.
The costs are very straightforward and depend on weight and size (though the size has to be quite exceptional to incur additional charges). You can get this in advance by going here, to the "Vers l'international" and entering the weight in grams and the destination country (remembering that it's Etats-Unis). Up to 500 grams is €24, over 501 and up to 1kg is €26.70, from 1kg to 2kg is €36.70, and over 2kg is €53.70. Over 5kg it goes up to €101.50. The maximum you can send with this service is 20kg, which is €162.
There is an exception to all this. If you are mailing something that can fit in an envelope or padded envelope — no more than 3cm high — you can send it as a "petit objet," without filling out customs forms. I've used this successfully to send documents and small pieces of art. Once I tried to push the 3cm limit, and the package was opened and half of the things inside it removed by customs.
If you're sending it as a petit objet, you don't need to fill out a customs form, and you can send it by regular (non-Colissimo) service. You can still pay for tracking ("une suivie"). You can do all of this at the automatic kiosks — just weigh your package, tap in the destination country, and pay (either by card or cash), and you'll be given two stickers: one for postage, one for tracking. Apply both stickers to the package, and hold on to the tracking receipt.
All Colissimo shipments are tracked (for packages, see the code on the form, usually beginning with "CC"; if you're tracking your petit objet, it'll be on your receipt) and you can add "assurance"/insurance for the value of the item. The clerk should ask, but if he doesn't, say you want "assurance" and tell the clerk for how much: €200, say.
You can track your packages here. Note — and this is a big note — that once they enter the U.S., the USPS assigns them a different tracking number, which is never connected to the La Poste tracking number — you won't see the USPS tracking number until it's received by the recipient in the US. This is a problem if you're trying to track down the package in the US, because you'll have the La Poste tracking number but not the USPS tracking number. La Poste will still track the big milestones (delivery, etc.) but it has less information than the USPS tracking would have. In case the package is missed (for example, if the US mail carrier fails to leave a pick-up slip, and it's held for a few weeks at the local US post office), it can be sent back to France — I've had this happen numerous times. For that reason, be sure to use a real address for the Colissimo forms. It'll go back there if the delivery in the U.S. isn't successful for whatever reason.
Colissimo delivers to the U.S. usually in about 5 business days. This is truer for destinations closer to New York. Usually I add however many days it would normally take for a package to ship from New York — for Florida, for example, I'd say seven to eight days.
Once you fill out your forms, hand them to the clerk, who'll give you the option of paying by credit card or cash. I use my U.S. credit card here all the time, and I've never had any problems, though I do need to sign for it rather than enter a pin.
That's it! Once you've paid, the clerk will throw (I have seen this) your package onto a pile, from which it will be lovingly taken into the embrace of the French postal system. TBH: though the clerks are sometimes not very pleasant, they are also sometimes very kind and welcoming — it just depends on who you get, what time it is, how busy they've been. And the service itself, though pricey, is extremely reliable — I've only lost one or two packages (out of hundreds) over the last few years.