Wondering what it's like to travel to Paris right now?
I would say: not great.
Last week, I traveled from New Jersey to Paris. I either had to come back or give up my residency visa, which expired the day after I arrived — believe me, I wanted to stay where I was.
Here, then, is how I made it to France:
Step #1: The groundwork
I called around to clinics near me — some would only offer tests to those who believed they'd been exposed to someone with covid. Most, though, could only offer a hazy timeframe of "2-4 days" for the results, which wouldn't work. The good news, I guess, was that these tests were all free — but since I didn't want to (a) miss my flight or (b) show up in France after my visa expired, I couldn't take the risk. It took a couple weeks of sifting around the internet — I have no idea why this wasn't easier to find — I saw a recommendation for Excell on, of all things, the French Consulate's website. They offered a paid ($130) test with results in 48 hours.
Step #2: The covid test
I went to Excell Clinical Laboratory in Edison, and 10/10 would recommend. I arrived at 9:30 (they open at 9), was told there were four people in front of me, went out and sat in my car for a half-hour, and came back. About half the people in the office ("¯\_(ツ)_/¯") were wearing masks, which I wasn't excited about, but I also didn't interact with them.
The test itself was no big deal: I was prepared to be uncomfortable, but it was really just like a gentle swab — so gentle that I said, "Are you sure that's enough? I don't mind if you need to go higher?"
(Apparently that's not necessary! Who knew!)
I received my results exactly 47 hours later, the morning of my flight.
Step #3: How to get to the airport
This might sound like no big deal, but I was perplexed. Car service? Train? Parking spot near the airport? I was literally so confused that I polled my friends on Facebook, and let me just say that the results were all over the place, with car service edging out the parking spot, and both of those options well ahead of the train.
Ultimately I felt like I wanted the control of driving myself, without having to worry that my driver's a Trump-voting anti-masker wearing his on his chin for the hourlong drive. I found a monthly spot at a hotel near the airport on Spothero.
I took an Uber from the hotel parking lot to the airport, and TBH it made me happy that I hadn't taken a car service to the airport.
Step 4: Document check
Since I couldn't check in for my flight online, I had to check in at a kiosk — a process interrupted halfway through for a physical document inspection (residency card, covid test). My residency card had "expired" officially in April, but was automatically extended six months. The United rep told me she had to take it out to get checked.
"If there are any problems I am 100% sure that it is valid so please involve me in that conversation," I said, like a Karen.
I spent the next five minutes, while she was gone, trying to pull up the documentation of the extension on my laptop, since my phone was dead, but when she came back she said I was OK to go.
Step 5: Baggage drop
I only mention this because I've never seen such a stressed-out crowd — everyone was in a bad mood, and the woman at the baggage drop desk was yelling at everyone, but I got it, because everyone was acting like we'd never seen a boarding pass before. It was rough.
I'll also take a moment to mention the dude who asked the guy in front of him to let him cut in line because his flight was coming up. (Their flights left at the same time.) Then I see him eyeing me, like he is definitely about to ask me the same question, and I say, "My flight leaves 15 minutes before yours."
"Did I ask you? Did I ask you?"
(I hate this guy.)
Then he spots a pack of men between us and is about to ask them, and the main guy over there is like, "Don't even ask me, we're on the same flight, what's wrong with you?" and the first guy is like, "Did I ask you? Did I even ask you?"
Ugh.
Step 6: Document check #2
Newark was basically empty. I've never seen anything like it — not even those very early morning flights. It was eerie and depressing — I can't imagine what it was like in May.
Before boarding the flight, we stood in a separate line for another document check, and I showed my covid negative test for the second time. The girl in front of me was denied boarding — apparently she'd flown to Newark from San Francisco, and to make the timing work had gotten her covid test a day too early, putting her outside the 72-hour window. She was French, crying, and far from home (France or San Francisco). I don't know what happened next but I felt for her. I thought they'd be more lenient with the Frenchies but I guess not.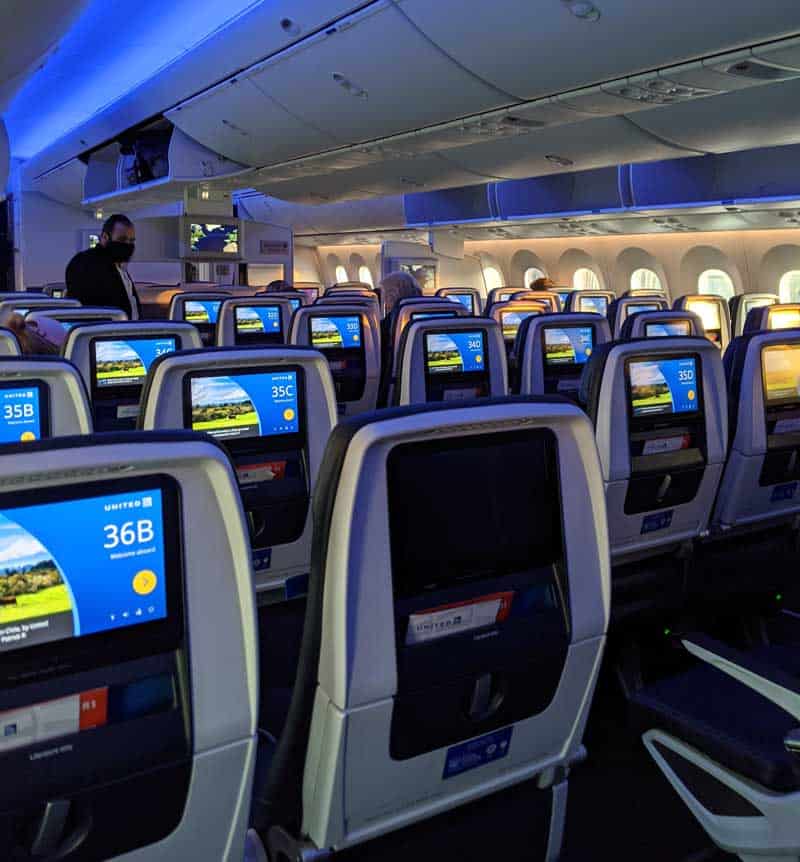 Step 7: The flight
In my economy window seat, I had two rows ahead and three in back of me that were completely empty, plus that middle tier of three columns of seats — also empty. I couldn't remember if they're serving food on flights but they did on ours (it wasn't bad, actually).
The flight attendants were nice in that normal flight attendant way and I just wonder now how many of them were furloughed last week.
Step 7A: Document check
I forgot this one so I'm adding it here! My covid paperwork was checked a third time, when a French official asked to see my results and then asked me when it had been taken(??? it's on there???). I was really glad, btw, that I'd printed this out, since I didn't have to worry about my phone dying (maybe other people are better at keeping their phones charged).
Step 8: Arriving to France
When we got to immigration, non-EU travelers went to one window, while the French/EUs went to another. There were about four(!) people on our side. Nobody chatted, but the guy in front of me entered as a student.
Step 9: Getting to Paris
I had already decided to take a cab from CDG to my apartment (somehow this was a less fraught decision than the one about going to Newark — I guess because I didn't have many choices.) A friend told me to insist on a cab with plastic protection between the driver and the passenger — which I would have done, but totally forgot to do. I did remember to double-check with the driver that he wouldn't mind if I opened the window, so I basically hung my head out into the rain for the entire 90-minute drive to Paris, like a dog, but at least a dog with fresh air.
I'm sure I'll be less stressed about it when I make the same trip in reverse in late November — I don't even think I need a covid test, though I should definitely be required to get one by my stupid government.
I wouldn't have traveled if I hadn't had to, and I've been dismayed at Parisian attitudes toward masking and social distancing. But it wasn't impossible, and I generally felt safe(ish). In sum: what it's like to travel to Paris right now is … pretty meh. I would have been happy to avoid it.
Here's hoping for better in the months to come.