I don't think you need to spend a lot of money on the best luxury hotels in Paris to have a good time there: The most intoxicating thing about Paris is acting as Parisians do — which is to say, generally enjoying life in a superior way, rather than going home to a $3000-a-night luxury suite at the Royal Monceau like Gigi Hadid. The best thing to do in Paris just might be splitting a bottle of wine on the bank of the Seine on a summer night — and that, friends, will set you back about $10, depending on what bottle of wine you get.
That said, few cultures understand luxury of all kinds — understated, overstated, baroque, streamlined — than the French, and its five-star hotels are just as super-luxe as you'd think they'd be. If you're looking to blow the bank — for a honeymoon, anniversary, random celebration — here are the seven best luxury hotels in Paris that might be worth the splurge.
Sample rates are for the nightly cost two days out — so on the high side of normal and chiefly to be used as a point of comparison.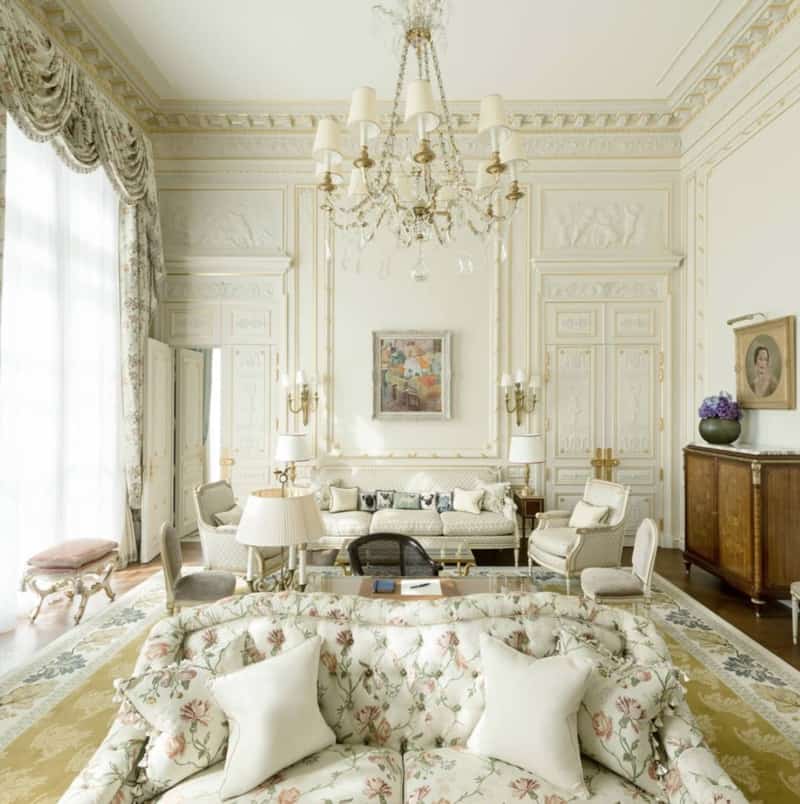 #1: The Ritz Paris
When the Ritz reopened in 2016 after a $450 million renovation, it did so with 71 regular rooms and 71 luxury suites — the photo above shows one of them, the Windsor suite. Few hotels in the world have as pedigreed a history: Hemingway learned his wife would divorce him here, threw her photo into the pool, and shot it; the Duke of Windsor — a.k.a. Edward VIII — wrote much of his memoir in the room (sorry, "suite") that now bears his name. (Read more hotel lore here.) If it's good enough for Coco Chanel — who lived here for 30 years — it's good enough for me.
Sample rate: $1364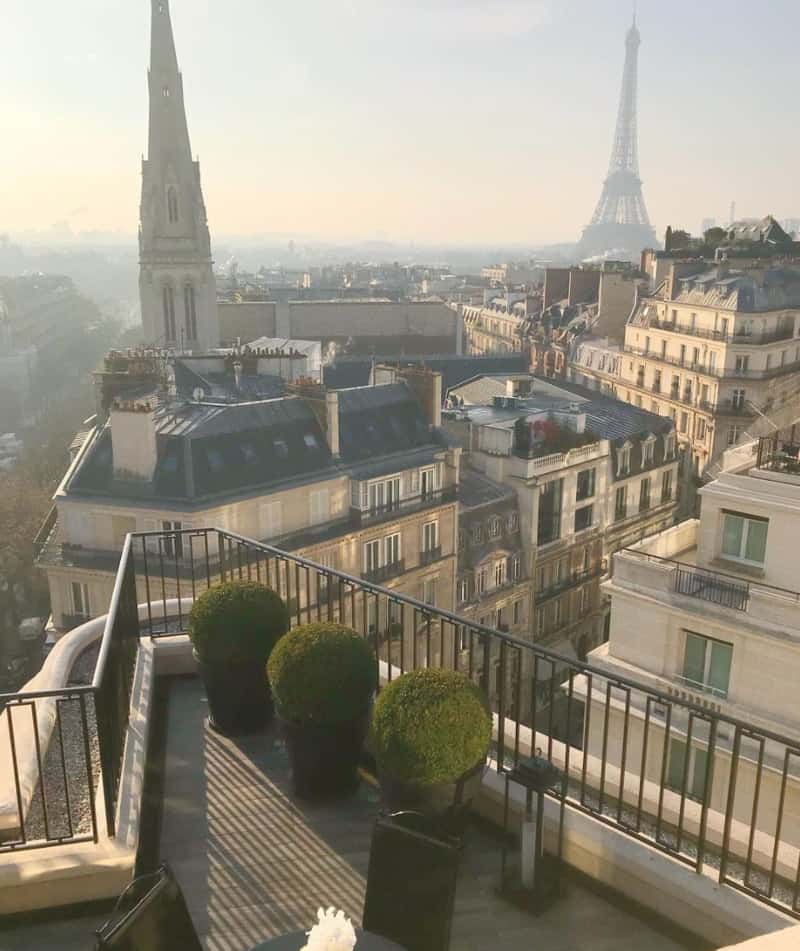 #2: Four Seasons George V
Number two on this list should probably be the Plaza Athénée or Le Meurice but there's this — please, God, let someone else buy these amazing hotels, so that their legacies are no longer tainted by association with barbaric laws of yesteryear. Anyhoo: The George V has everything you'd expect: opulence and floral displays, plus three-Michelin starred restaurants. When it was built in 1928, it was built at the request of an American businessman, and nearly two-thirds of the guests in the early days were from the States — they included, decades later, Grace Kelly, who surreptitiously met a friend from high school here the night before she died. Notable for its location in the 8th, along one of the grandest shopping streets in the world. And catch that view!
Sample rate: $1435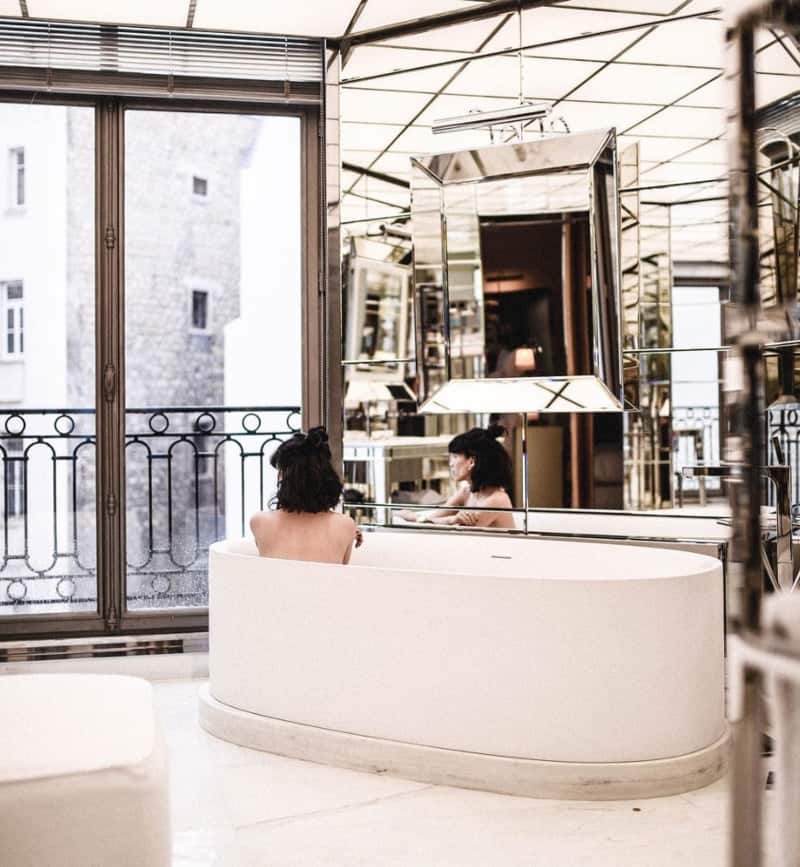 #3: Le Royal Monceau Raffles Paris
Not as over-the-top French as some of the other options on this list, the Royal Monceau has a particular location (closer to the Parc Monceau than the Louvre; the park may be the better choice for elegance and luxury when the Louvre is at its most crowded) and vibe: more new money than old. If you keep an eye on the celebrity comings-and-goings into Paris, you may notice that this is a favorite of a certain set — like Gigi and Bella Hadid and Barbara Palvin — and oh here's Emrata in a bathrobe.
Sample rate: $1135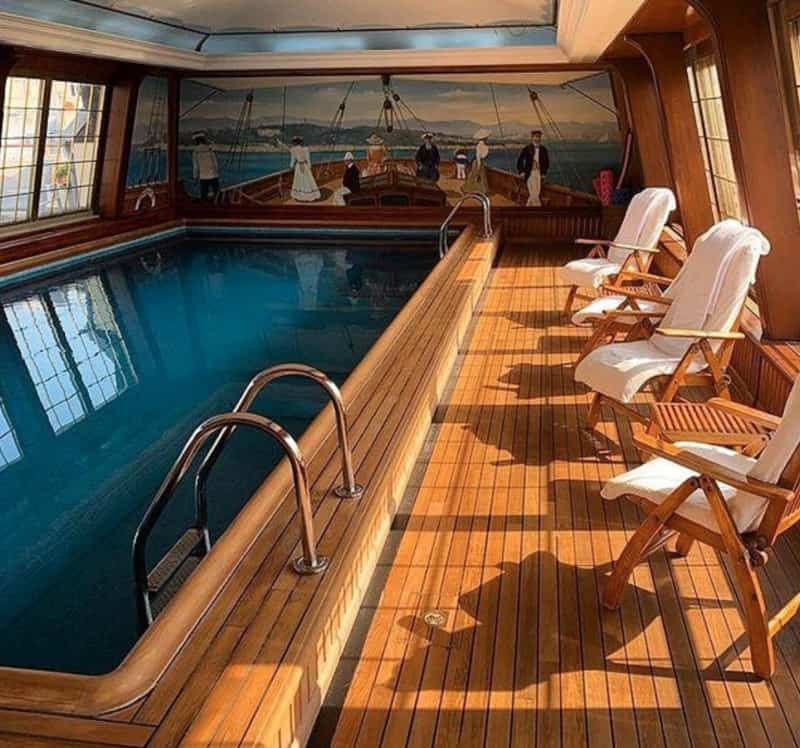 #4: Le Bristol
If the Ritz is over-the-top opulence and the Royal Monceau is equally over-the-top contemporary opulence, Le Bristol may be the Goldilocks' porridge of some strange, exceptionally pretty middle space, like if your eccentric grandmother came into a ton of money and wanted to spend it all on a hotel. From a historical perspective, few have a better story to tell than Le Bristol, which opened in 1925 and during World War II served as the American embassy and home to Americans — as well as a Jewish architect, Leo Lerman, who clandestinely worked on the hotel while avoiding deportation and near-certain death: "For three years, he never left the hotel. His room, 106, was removed from the register and any record of his name deleted. But from there he managed to redesign the dining room, and eventually more rooms, under the noses of the occupying German army." Also Kim Kardashian loves it.
Sample rate: $1121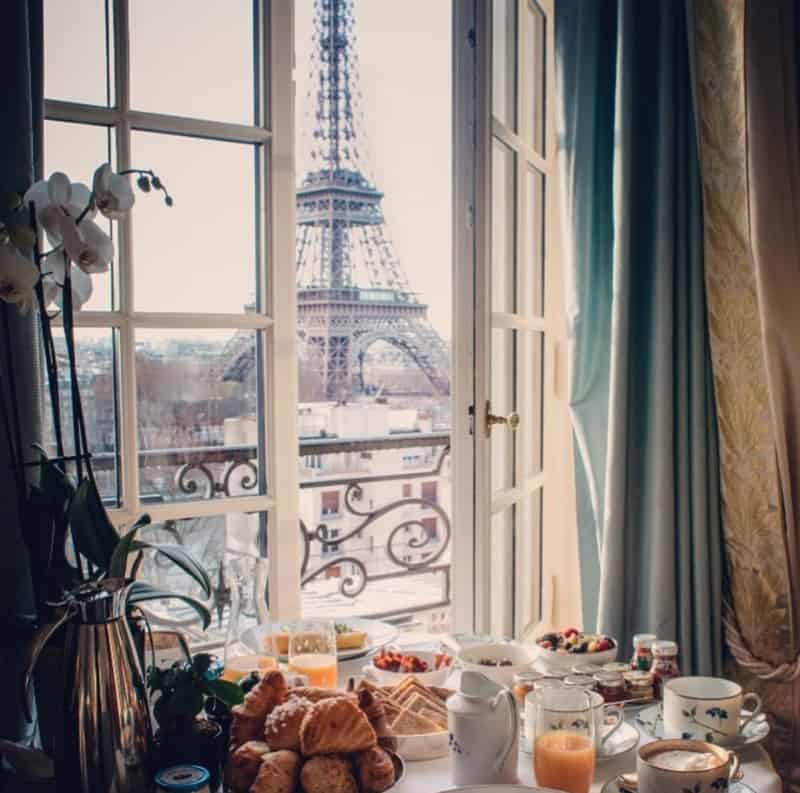 #5: Shangri-La Paris
My ex-boyfriend once worked in Dubai and stayed in a Shangri-La for weeks on end, which I still think is the most glamorous thing I have ever heard of. Easily the newest of the best luxury hotels in Paris, the Shangri-La only opened in 2010, in the former Palais d'Iéna, once the home of Napoléon Bonaparte's nephew Roland — who so disliked the Eiffel Tower that his bedroom faced the street, rather than the tower. Luckily, visitors in no fewer than half the rooms have private balconies with Eiffel views. Also, their social media is sufficiently out of control that Ian Ziering got a look.
Sample rate: $1534