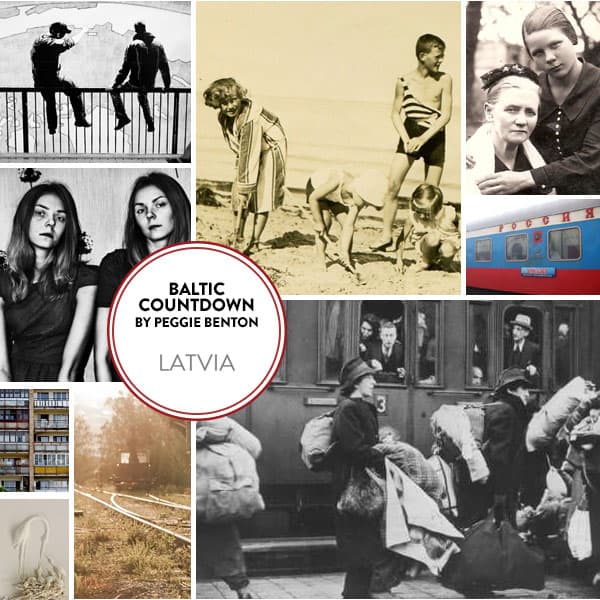 Baltic Countdown, from Latvia
My entire "Around the World in Books" adventure (and it really is that!) begin, quite accidentally with A Woman in Berlin, a German journalist's memoir of the days that followed the Russian occupation of Berlin at the end of World War II.
I'd just read City of Women, a full-on cinematic treatment of Berlin during the war from the perspective of an especially plucky hausfrau, and I'd wanted to find a real-life version. A Woman in Berlin was all that and more—I really don't use a modifier more reverentially than "clear-eyed," and A Woman in Berlin was one of the most clear-eyed books I've ever read.
Baltic Countdown in some ways connects to A Woman in Berlin, even though author Peggie Benton's travails are significantly less devastating than rapes and degradations suffered by AWIB's still-anonymous narrator. Benton was a passport officer for the British government in Riga, Latvia's capital city, during World War II, and it's through her eyes that we see the catastrophic arrival of the Russians. Her diplomatic status of course shelters Benton and her husband Kenneth from the worst of things, so this book is best regarded as a clear-eyed (yes) document of that terror. (And of course it's all newly relevant given the recent Russian activities in Ukraine.) Like this, from Benton's flight to safety from Riga to Japan to Canada to England, via the Transsiberian Railway:
"A cattle train was standing [across from our train], its unglazed windows running the length of each waggon. On the shelves lay creatures so gaunt and unkempt that unless they wore bears it was hard to tell whether they were men or women. Hands like claws, and arms and legs with the skin stretched tight across the bones were thrust through the bars, either in an effort to change an intolerably cramped position or to bring a little fresh air to aching limbs. The spectacle was so horrific that it was hard to believe that it was real."
In this case, Benton discovers that those passengers were workers who had "chang[ed] jobs without having a signature in one's labor book to show that an employer had given permission. It was only one of many grounds for condemnation to a labor camp."
The way this passage connects so directly to Purge (my Estonia book, in which the main character has her own sister and niece deported to Russia) and Between Shades of Gray (my Lithuania book, in which the main character could easily have been one of those passengers, en route to a gulag) is what makes the whole Around the World in Books thing so magical to me.
In places I found Baltic Countdown slightly difficult to follow—unlike "A Woman in Berlin," it does not feel like the narrator had a lifetime of writing experience to exploit as incredible events unfolded around her. But I'm grateful for Benton's slightly detached perspective from a cataclysm I've now read about (thanks to ATW) several times — one of a witness, rather than a victim. Keep calm and carry on, indeed.
More Around the World in Books:
Why I'm reading these books
Recent books:
Norway: The Ice Palace by Tarjei Vesaas
Portugal: Blindness by Jose Saramago
Spain: The Infatuations by Javier Marías
Germany: A Woman in Berlin by Anonymous